By signing Peyton Manning, the Denver Broncos gave themselves a three-year window in which they can make a serious run at the Super Bowl. But their selections in this draft class raise some questions about the direction this franchise is headed.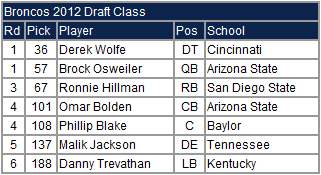 Derek Wolfe was a reach in the early 2nd round. John Fox was clearly looking for a penetrating three-technique tackle but, while Wolfe is a decent athlete for his size, he lacks the consistency to warrant such a high pick. He'll be plugged into a starting role immediately, but I question his ability to be effective. There were better options, such as Kendall Reyes, on the board.
The Brock Osweiler selection baffles me. For starters, it's a reach in the 2nd round. He is a purely developmental prospect who needs significant work on this motion and his decision making ability. But what really concerns me is that fact that the Broncos used an early pick on Manning's replacement when they could have added a playmaker to help Manning in his pursuit of of Super Bowl title.
The selection of Ronnie Hillman has drawn criticism from some, but I'm on board with the pick. Yes, there were better running backs still on the board, but the Broncos weren't looking for starter here. They're comfortable with another season of Willis McGahee and Knowshon Moreno, meaning Hillman will be relied upon as a change-of-pace back, and he's more than capable of filling that role.
Omar Bolden is an injury risk, but I like the gamble in the 4th round. If healthy, he has an excellent chance to win the nickel corner job and could develop into a quality starter down the road.
Phillip Blake will be given an opportunity to compete with J.D. Walton for the starting job at center. And if Walton's performance from 2011 continues, Blake will have an excellent chance to win the job. He could prove to be a steal in the 4th round.
Malik Jackson is another prospect who could prove to be a late-round steal. I only had him rated slightly lower than Derek Wolfe, and two prospects are similar in many ways. He primarily played both tackle and end at Tennessee, but is better suited to stay inside in Denver's 4-3 defense.
Danny Trevathan was a playmaker at Kentucky and an extremely productive collegiate linebacker. However, he's undersized and lacks the athleticism to make up for it. His upside is limited, but he has a decent chance to make the Broncos roster based on his potential to contribute on special teams.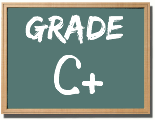 Overall, this was a disappointing haul for the Broncos. They didn't make too many extreme reaches, but they also failed to add immediate help for Manning. Even if Osweiler proves to be the heir apparent to Manning, if they won't win during the Manning era, we'll have to wonder if they missed an opportunity to upgrade the talent around him with that selection.