The Kansas City Chiefs gambled early and often in this class, focusing on players with high upside despite minimal on-field production in college. It's a bold strategy, and Scott Pioli is putting his job on the line. If these draft classes don't pan out, he'll be on the hot seat in a year or two.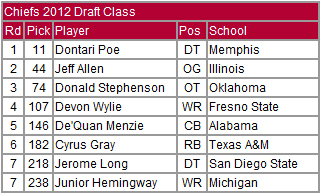 Dontari Poe is a classic boom-or-bust prospect. It's impossible to overlook his measurables, but it's equally tough to ignore his lack of production at Memphis. The Chiefs could prove to be an ideal landing spot for him though. Romeo Crennel has a strong track record developing nose tackles, working with Vince Wilfork in New England and Shaun Rogers in Cleveland. He's a true player's coach, and should be able to keep Poe motivated.
Jeff Allen was considered a 2nd-round pick by many, but it feels like a reach to me. He primarily played tackle at Illinois, rotating between left and right tackle in every game. That type of versatility is intriguing, but his athleticism is limited and he'll be limited to right tackle or guard at the next level. I'd be more comfortable with the selection of Allen if he filled a need, but the Chiefs don't appear to have any immediate openings on the offensive.
Donald Stephenson has the measurables to play left tackle in the pros but he, like Poe, showed limited production in college. Given his upside, the Chiefs will likely groom him behind Branden Albert. He may take a year or two to reach his full potential, but he does have a chance to take over a starting job down the road.
Devon Wylie is an elite deep threat, who was a solid value in the 4th round. He's as fast and explosive as any receiver in this class and has the potential to make an impact in a limited role immediately, and potentially on special teams as well. However, Wylie also has an extensive injury history and has struggled to stay on the field.
De'Quan Menzie played corner at Alabama but is a candidate to shift to free safety in the pros. He lacks the speed to be consistently effective in coverage, but does have the size and ability in run support to play safety. However, the Chiefs secondary is crowded. He'll need to prove his worth on special teams in order to win a roster spot.
The selection of Cyrus Gray was questionable, even the 6th round. While there's no denying he was worthy of a 6th-round pick, it's tough to see how he fits into the Chiefs plan. Peyton Hillis, Jamaal Charles and Dexter McCluster are guaranteed roster spots, which makes Gray a long shot to make the final roster cut.
Jerome Long is a developmental prospect. He'll likely be moved to to end in the Chiefs 3-4 defense but he'll have to fight with Brandon Bair and others for a spot on the roster.
Junior Hemingway is a decent developmental prospect in the 7th round. He has the measurables and turned in some impressive workouts this offseason. He has limited experience in a pro-style offense, however, which limited his growth as a receiver. He's definitely a candidate to be one of the steals from the 7th round.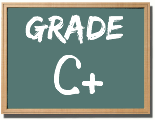 Like their 1st-round pick, this was a boom-or-bust draft class for the Chiefs. Poe is the only prospect who will start immediately, and even he is developmental propsect who may struggle early on his career. While this draft class has the potential to produce three or four starters, there are no slam dunks. This could prove to be a critical draft class for Scott Piolo. Either he hits a home run and the Chiefs become serious contenders, or each of these prospects fails to live up their potential and Pioli finds himself on the hot seat.