It's tough to grade a team with no draft picks, so to make it simple I'll focus solely on how the Oakland Raiders used the picks they had and ignore the questionable trades that got them here.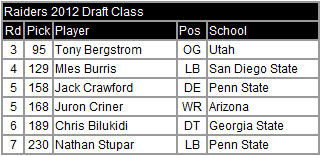 With their first selection in the 3rd round the Raiders reached to fill a need. Tony Bergstrom will be given an opportunity to compete for a starting job, but he offers only a limited upgrade over their current interior linemen. The Raiders would have been better off settling for the best available player, even if it didn't fill an immediate need.
Miles Burris will likely compete for the starting job at weak-side linebacker. However, his upside is limited and his role as a rookie may only come by default. His long-term value figures to be limited to special teams duty.
Jack Crawford is an intriguing prospect, but he's never put it all together on the field. He has all the physical tools necessary to be an elite pass rusher, but he's just never shown the ability to consistently play at a high level. He's well worth a gamble in the 5th round, however, and could end up being a player who blossoms in the NFL.
What would Al Davis have to say about the Raiders drafting Juron Criner, who ran a 4.68 in the forty at the combine? The fact that the new Raiders regime would even consider Criner given his poor time shows a considerable shift in philosophy in Oakland. Speed issues aside, this may have been the Raiders best selection. Criner is built like a true No. 1 receiver and has shown that type of play-making ability in the past. He's inconsistent, but is a nice developmental prospect to add in the 5th round.
Chris Bilukidi will add some much-needed depth to the interior defensive line. He's needs to improve his overall strength, but has the raw measurables to offer some value as a developmental prospect.
Nathan Stupar projects as a special teams player but, given the lack of depth at linebacker in Oakland, he could see some fairly significant playing time and potentially compete for a starting job if no one else is brought in this offseason.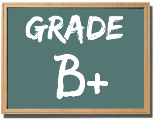 Considering what limited resources they had to work with, GM Reggie McKenzie and his staff did a nice job. It's unreaslitic to expect any signficant contributors to come from this class, but the Raiders added enough players with some developmental value that they may find a gem or two.