The Eagles had relatively few holes to fill, so this draft class was about adding depth and finding some prospects to groom for future roles.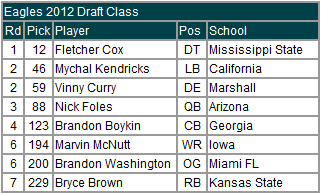 I like the trade up for Fletcher Cox. The hype surrounding his stock got a little out of control in the weeks leading up to the draft, but he does have the potential to be an impact interior lineman. He's a prototypical penetrating three-technique tackle and has the potential to be a poor man's Ndamakong Suh. He's inconsistent against the run, but Philly has the depth  to use him as part of a rotation.
I like the selection Mychal Kendricks in the 2nd round, but I do wonder where he fits in. He's best suited to play insider or weak-side linebacker, but the Eagles most glaring hole is on the strong-side. Kendricks can probably make that transition, but it's not a perfect fit.
Vinny Curry will be steal in the late 2nd round. He's a relentless pass rusher who could push for playing time immediately, even on crowded defensive line in Philly.
I'm baffled by the selection of Nick Foles. For starters, the Eagles could  have landed an impact player in the late 3rd round, there was no reason to settle for a purely developmental prospect. But to make matters worse, Foles is not worthy of a 3rd-round pick. He's terribly inconsistent and didn't show any real potential until the second half of his senior year. There's a huge bust factor with this pick.
Brandon Boykin is a steal in the 4th round and I'm shocked he fell that far. He's undersized and may be limited to playing the nickel corner role, but he definitely has the skills to make an impact. He'll compete with Curtis Marsh for playing time, but should eventually earn a larger role down the road.
Marvin McNutt has limited upside, but he 's fairly polished and will have a chance to compete for the fourth receiver role. On a different team I'd like his chances, but the Eagles receiving corps is crowded. He may end up on the practice squad.
Brandon Washington played left tackle at Miami but will need to shift inside to guard in the pros. I'm somewhat surprised by this selection because the Eagles have been targeting smaller, more athletic interior lineman in recent years, and Washington definitely does not fit that mold.
Bryce Brown was a serious gamble, even in the 7th round. He was highly recruited out of high school and ended up at Tennessee, but eventually transferred to Kansas State. However, he's consistently found himself in trouble and needs to get his life in order before he can be relied upon. He's made a number of questionable decision throughout his career, including unexpectedly leaving the Kansas State program last September. Even in the 7th round, he probably wasn't worth the headache that he'll bring.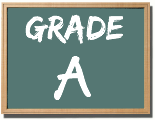 The Eagles put together a solid class and added some impressive depth to their front seven. The only pick that really raised any concerns was Foles, which felt like a reach. But they still added at least three players who project as future starters (Cox, Kendricks and Curry) and another (Boykin) who should at least add contribute as a nickel corner.