The Dallas Cowboys made a bold move by trading into the top 10, but they got a great deal from the Rams and have now solidified their most glaring weakness on defense.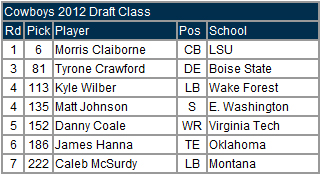 Normally I'm critical of teams that trade up as far as the Cowboys, but only because of the price tag associated with climbing into the top 10. The Cowboys, however, were able to hang on to their 2013 1st-round pick, the usual asking price for such a blockbuster trade.
The selection of Morris Claiborne immediately solidifies what was the Cowboys most glaring weakness entering the offseason. Claiborne should make an immediate impact, and should be considered an early candidate for defensive rookie of the year. Due to the free agent acquisition of Brandon Carr, Claiborne will be the No. 2 corner, which will put him in favorable matchups and allow him to develop, rather than being thrown into the fire as he would have in Tampa Bay or Minnesota.
Tyrone Crawford may have been a slight reach in the 3rd round, but the Cowboys needed to address the depth at defensive end. He's a prototypical 3-4 end and should be given an opportunity to compete for playing time with Jason Hatcher and Kenyon Coleman.
The selection of Kyle Wilber was definitely a reach and didn't address an immediate are of concern.
Matt Johnson is a developmental prospect and a significant reach in the 4th round. He'll primarily play on special teams early in his career and be groomed to play strong safety down the road. He clearly has the size/athleticism combination, but probably would have still been on the board in the 5th or 6th round.
I love the selection of Danny Coale in the 5th round. His upside is limited due to his lack of speed and overall athleticism, but he is a classic possession receiver who should be able to contribute as the 3rd or 4th option, even as a rookie.
James Hanna rose up draft boards with an impressive combine workout, but his lack of production in college raises some concern. A player with his raw skills should have been able to find a role at Oklahoma, an offense which has a role found roles for athletic tight ends like Jermaine Gresham in the  past. That said, the risk/reward is definitely in the Cowboys favor in the 6th round.
Caleb McSurdy has a decent chance to make the final roster cuts due to the Cowboys lack of depth at inside linebacker. There's a chance he could beat out Bruce Carter if he impresses in training camp.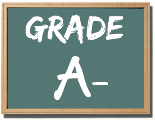 Overall, this draft was all about the addition of Claiborne. The Cowboys clearly view him as one of the missing pieces to their championship run. The trade was an aggressive move, but one that could prove to be well worth the risk if he lives up to expectations.