With so few holes, I expected the New York Giants to simply target the best available player – a strategy which Jerry Reese has used frequently in the past – but he strayed from his typical approach and it may come back to haunt him down the road.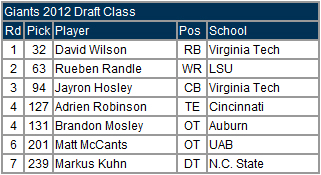 David Wilson was a reach, and there's really no way to sugar coat that. The fact that Reese would reach for Wilson raises a serious question: is Ahmad Bradshaw healthy? If so, the selection makes little sense. But if they're legitimately worried about Bradshaw's ability to stay on the field in 2012, the pick is justifiable. Since the motivation behind the pick is a bit of an unknown, I'll have to factor that into the grade and give Reese the benefit of the doubt.
The selection of Rueben Randle is more in line with the Giants typical draft strategy. He was among the top available players on the board and will help fill the void left by the departure of Mario Manningham. He's a developmental prospect but should be able to provide some help as a third or fourth option at receiver this year.
Jayron Hosley fell due to character concerns, but was probably worth the gamble in the late 3rd round. He likely won't see the the field much given the Giants crowded secondary, but he was a solid investment at that point in the draft.
Adrien Robinson was a hot name this offseason and a late riser up the draft boards. He's a good fit for the Giants, who like their tight ends to be strong blockers. He was likely drafted as insurance behind Jake Ballard and Travis Beckum, who are both coming off injuries.
Brandon Mosley and Matt McCants add some much-needed depth to the Giants offensive line. Neither has much upside, but they both have the ability to play multiple positions along the line and have long careers as backup linemen.
Markus Kuhn will become one of the few players born in Germany to play in the NFL. He's a good athlete for his size and is an interesting developmental prospect. However, the Giants depth chart is crowded at defensive tackle and he may struggle to make the final roster cut.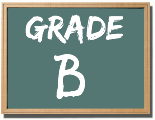 I'm having a hard time grading the Giants draft without knowing what prompted the selection of David Wilson. If they're worried about Bradshaw, it makes sense. But if they panicked once Doug Martin was snatched out from under them by the Bucs, it's a poor decision. Given Reese's draft history, I'm inclined to give him the benefit of the doubt, but this was definitely not his strongest draft class.