The Buffalo Bills were already having a strong offseason, highlighted by the addition of Mario Williams. And their 2012 draft class completes the process, and potentially makes them darkhorse contenders in the AFC.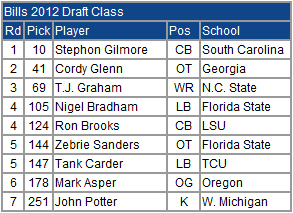 The Bills reached for Stephon Gilmore. There's no denying his potential, but he's will need time to develop – more time than you'd typically expect from a top-10 pick. That said, I believe cornerback was one of their most glaring needs, and there was a fairly significant dropoff in talent at the position. If they felt this was an area they needed to address in order to compete in 2012, the reach was justified.
Cordy Glenn could be a steal in the 2nd round, but it depends where the Bills use him. He played left tackle this past season at Georgia, but is best suited to play right tackle or guard in the pros. If the Bills use him at left tackle, they'll be missing an opportunity to maximize his skills.
T.J. Graham was a reach in the 3rd round. He's more of a track star than a football player. He can stretch the field and potentially contribute as a return specialist, but his upside is limited.
Nigel Bradham is a developmental prospect but I like how he fits in Buffalo. He won't be forced to play a significant role right away and can be brought along slowly.
I love the selection of Ron Brooks. He was stuck behind Morris Claiborne and Tyrann Mathieu this past year, but had the skills to start for nearly any other program in the country. His lack of experience makes him a bit of an unknown, but he played well in a nickel corner role at LSU and, at worst, should be able to fill that role in Buffalo.
Zebrie Sanders could be the Bills long-term answer at left tackle, but he isn't ready for that role just yet. Ideally, they'll keep him on the sidelines for a year, developing his strength and technique. But they're desperate for help on the offensive line, which may force him into action.
Tank Carder lacks the measurables, but was extremely productive at TCU. He may never start, but should have a long career as a backup and special teams contributor.
Mark Asper may add some depth to the offensive line, but he'll have to fight to make the final roster cuts. The Bills have no shortage of mediocre interior linemen.
The selection of John Potter doesn't make much sense. Rian Lindell seems to be entrenched as the starting kicker and Potter is no better than any number of kickers who could have been picked up after the draft.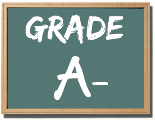 Overall, the Bills did a nice job of addressing needs without making many significant reaches. They also landed a few solid developmental prospects who could pay off a few years down the line. This may be Buddy Nix's best draft class since coming to Buffalo.