When you draft a quarterback in the 1st round, you're staking your entire reputation on that one player, which is exactly what Miami Dolphins GM Jeff Ireland did with Ryan Tannehill. No matter what happens with the rest of this draft class, only Tannehill's performance will be remembered.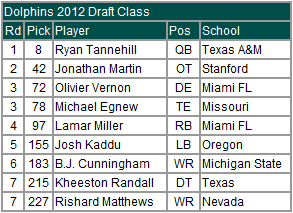 I've been saying all year that Ryan Tannehill is not a 1st-round talent. I gave him a 3rd-round grade based on the fact that he has the raw skills to start in the NFL, but needs a considerable amount of development before he's ready. And based on that assessment, I don't like his chances to succeed in Miami. He's the type of quarterback that needs to sit and learn, and he won't have that luxury. The Dolphins are probably going to throw him into the fire, and that rarely works out well for developmental prospects.
Jonathan Martin was extremely overrated throughout the draft process, but he's a solid 2nd-round pick for the Dolphins. He'll be plugged in a right tackle where he should be an adequate starter.
Olivier Vernon is a run-stuffing lineman and I'm not sure how he fits in Miami's 3-4 defense. He may be too small to play end but isn't athletic enough to play linebacker.
Michael Egnew was a nice pickup in the 3rd round. He's essentially an oversized receiver, and won't be a three-down tight end. But they needed to add a pass-catching tight end, and he'll be a nice compliment to Anthony Fasano, who's more of a traditional tight end.
Lamar Miller could prove to be a steal in the 4th round, but the running back depth chart in Miami is crowded. He'll have to fight for playing time behind Reggie Bush and Daniel Thomas.
Josh Kaddu adds depth at linebacker and should contribute on special teams. He'll likely play inside linebacker in their 3-4 defense.
B.J. Cunningham is a solid possession receiver who could be a late-round steal. He's a strong route runner with good hands and has the skills to play immediately. However, he's similar to some other receivers on the Dolphins roster, such as Davone Bess, which may hurt his chances of seeing any significant playing time as a rookie.
Kheeston Randall is a steal in the 7th round. He's a tough, hard-working player who fits perfectly at end in the Dolphins 3-4 defense. He may only be a career backup, but in the 7th round he's well worth the selection.
Richard Matthews will have a tough time making the Dolphins final roster cuts. He'll find a job somewhere, but the depth chart is crowded at receiver in Miami.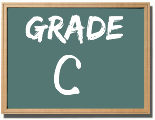 The Dolphins made some nice picks in this draft, but it's impossible to overlook the gamble on Tannehill. This franchise is headed in the wrong direction, and they don't appear to have the decision makers in place to turn things around.