The Washington Redskins draft was all about one player. And while they made some questionable choices later on, the selection of RGII is all that matters.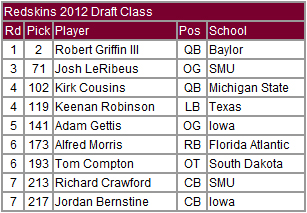 Robert Griffin immediately becomes the face of the franchise in DC. But fans who expect him to immediately turn things around are going to be disappointed. He's still very raw and there will be growing pains. What sets him apart though are his intangibles. We've seen players with his raw ability before, but no one with his combination of athleticism, arm strength and accuracy has also had the worth ethic and leadership qualities that RGII possesses.
Josh LeRibeus was a reach in the 3rd round. But they did need to attempt to upgrade the interior offensive line and he should be given an opportunity to win a starting job.
The "controversy" surrounding the selection of Kirk Cousins was purely a media creation. Cousins is a backup quarterback, and he was always going to be a backup. So does it really matter if he's backing up a 10-year veteran or a rookie? That said, the Redskins could have addressed another need with the 102nd pick. There were still impact players on the board, and Cousins may never see the field in Washington.
Keenan Robinson was a nice pickup in the 4th round. He fits well in their defense and will be a capable backup to Brian Orakpo and Ryan Kerrigan.
I like Adam Gettis more than LeRibeus. Both prospects will compete with each other for playing time.
Alfred Morris was a reach. There were better running back prospects on the board in the 6th round. But Mike Shannahan loves his sleeper running backs, so he'll give Morris a fair shot to earn a job.
Tom Compton will compete for a backup job at tackle. They don't have an obvious choice for Trent Williams' backup, so Compton could be in the mix.
Richard Crawford and Jordan Bernstine are both long shots to make the roster. The Redskins secondary is crowded and they've already signed two cornerbacks this offseason. Bernstine has the size to play safety as well, so he may actually have the edge to earn a job if he can demonstrate the necessary versatility.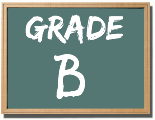 The Redskins only added one difference maker in this class, but when that difference maker is a true franchise quarterback, that's all you need. They definitely missed some opportunities in the 3rd and 4th round to build around Griffin, but they still receive high marks overall.