The New England Patriots are always a tough team to predict in the draft, and Bill Belichick proved why once again. Belichick builds his own draft board and sticks to it, regardless of how it matches up with the consensus opinion.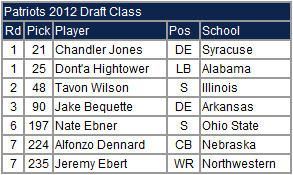 I was somewhat surprised by the trade up for Chander Jones, but I like the pick. He's a perfect fit at end/linebacker in the Patriots hybrid defense. And while he's still developing, Jones has the potential to be a true three-down lineman.
The selection of Dont'a Hightower felt like a slight reach in my opinion, and it's tough to figure out how he'll fit in the Patriots defense. That said, Belichick stacks his draft board with players whom he sees a specific role for in his defense, so I have no doubt that they have a plan for him.
While I'm willing to give Belichick the benefit of the doubt with Hightower, I can't be so generous with the selection of Tavon Wilson. He'll provide some much needed depth in the secondary but it's tough to imagine him ever developing into a starter. Belichick does not have a strong track record drafting defensive backs, and this is just the latest slip up.
Jake Bequette was a great 3rd-round pick. He'll have a chance to compete for a starting job, and should be used as part of the rotation at defensive end. He's not an explosive pass rusher, but should be an asset on running downs.
Nate Ebner was the biggest 6th-round reach I've ever seen. He's a former rugby player who was exclusively a special teams contributor at Ohio State. His measurables are impressive, but it's tough to justify spending a 6th-round pick and a roster spot on a guy with so much development needed.
Alfonzo Dennard was overrated and his recent arrest led to his fall, but he was well worth the risk in the 7th round. However, it's difficult to understand why the Patriots waited until the 7th round to address their need for a cornerback. Depth at the position was serious issue last year and relying on Dennard to fix the problem is a risk.
Jeremy Ebert will be Belichick's latest project at receiver. He was productive at Northwestern and has the skill set necessary to contribute in the Welker/Edleman role. However, it's getting crowded at the receiver position in New England and he'll have a tough time making the final roster cuts.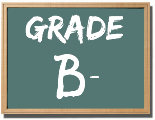 Overall, this was just a so-so draft for the Patriots. They made some significant upgrades to their defensive front-seven, but the secondary was essentially ignored. It's tough to imagine Wilson, Ebner or Dennard providing any meaningful contributions this season, which could mean their passing defense struggles from last season will carry over to 2012.