The New York Jets are making some bold moves this offseason, and it carried over to the draft. The rolled the dice early and often with this draft class, and it could pay of big way… or it could cost Mike Tannenbaum and Rex Ryan their jobs.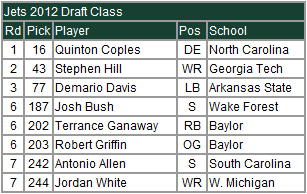 Quinton Coples was a bold choice in the 1st round, especially considering some of the impact players still on the board. While Coples has a ton of potential, he's had trouble staying motivated on the field which raises some big red flags. And when players have effort issues in college, it doesn't usually improve once they're collecting an NFL paycheck.
I like the selection of Stephen Hill in the 2nd round, but he's not going to provide much help early on. He'll serve as a deep threat early in his career, and could develop into a No. 1 receiver down the road, but will Tannenbaum and Ryan be around to reap those benefits?
Demario Davis was a reach in the 3rd round and didn't fill a position of need. He'll backup David Harris and Bart Scott at inside linebacker and play on special teams.
Josh Bush will compete for the the right to back up LaRon Landry at strong safety and provide some help in special teams coverage.
Terrance Ganaway will compete for a backup job at running back, but I don't like his chance of winning a job. Bilal Powell and Joe McKnight should be solidly ahead of him on the depth chart.
Robert Griffin is a massive interior lineman who will compete for a backup job. He needs to stay in better shape, but he has the potential to develop into late-round steal.
I love the selection of Antonio Allen. He may never develop into a starter, but he'll be an immediate impact player on special teams. I actually like Allen significantly more than Josh Bush.
Jordan White has some injury issues which led to his fall in the draft, but he has the potential to be a steal if he can stay on the field. He was extremely productive at Western Michigan and could develop into a decent slot receiver at the next level.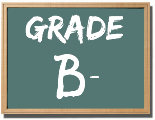 The Jets clearly gambled early in this class and were thinking about the future more than 2012. It's a risky strategy, but there's no denying the fact that they added two of the most talented players in the draft in the 1st and 2nd round. However, they didn't add anyone who projects as a future starter in the 3rd round or later. The lack of depth from this class, coupled with the early-round risks makes it tough to give them a high grade.