The Chicago Bears addressed their most glaring need by trading for Brandon Marshall earlier this offseason, but continued an aggressive approach during the draft. They made some bold moves in an effort to catch the Packers and keep pace with the Lions. But if they don't pan out, it could prove to be a rough start to GM Phil Emery's career.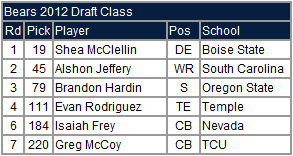 I jumped aboard the Shea McClellin bandwagon this offseason, but he's not a top 20 talent and I'm not sure how he fits in Chicago. McClellin excelled in 2011 based on his performance in a hybrid end/linebacker role at Boise State. In Chicago, however, he'll likely revert back to playing the traditional 4-3 end role. When playing with his hand on the ground, McClellin looked simply ordinary, so I'm not sure what the Bears thought they saw. He would  have been better off landing in a 3-4 defense.
Alshon Jeffery was worth a 2nd-round pick, but I'm not sure he had value here for the Bears. Their receiving corps is suddenly crowded and it's tough to imagine him playing a significant role as long as Brandon Marshall is ahead of him on the depth chart. He does have some developmental value, but if they're trying to win now, there were other impact players on the board.
Brandon Hardin was a definite reach in the 3rd round. He'll compete for playing time at strong safety, but will need to beat out Major Wright and Craig Steltz.
Evan Rodriguez was also a reach. He'll likely shift to fullback, and it's tough to justify filling that need as early as the 4th round.
Isaiah Frey and Greg McCoy will compete for a job in the Bears secondary, but it's fairly crowded back there. The top four corners are essentially set in stone, leaving Frey and McCoy to compete for one roster spot. It's tough to imagine both players surviving the final cuts in training camp.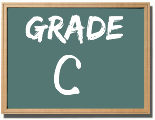 The Bears potentially added two starters in this draft class, but both McClellin and Jeffery are big risks. Neither players put together a consistent collegiate career, which raises some concern. Emery's approach to this draft felt like a desperate attempt to make a splash. It may pay off down the road, but he did very little to help them in the immediate future. Overall, this was a very average haul for the Bears.