The Detroit Lions made significant strides in 2011, but have failed to make the necessary steps to build upon their playoff run. This draft class was an opportunity fill some holes, especially on defense, but GM Martin Mayhew failed to land any impact players on the defensive side of the ball.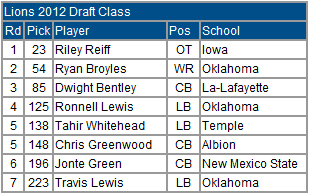 Riley Reiff could have been a justifiable 1st-round pick if he filled an immediate need, but Lions don't  have an immediate hole to fill on the offensive line. Jeff Backus may not have much time left in Detroit, however, so they could view Reiff as the future at left tackle. Unfortunately, Reiff does not project as an impact player on the left side, and would be better suited as a right tackle, where Gosder Cherilus appears to be entrenched.
Ryan Broyles is an intriguing prospect, but the 2nd round was far too early for an undersized receiver coming off a significant injury. This was the type of selection Lions fans thought they were free of when Matt Millen left the organization.
Dwight Bentley was also a reach in the 3rd round. He has some developmental value, but the Lions really needed to add an impact cornerback. Jayron Hosley and Brandon Boykin were both still on the board and are far more NFL ready than Bentley.
Ronnell Lewis has a chance to be a steal in the 4th round, but Lions will need to find the right place for him. In the 4-3 defense he could play end or strong-side linebacker.
Tahir Whitehead is a nice developmental prospect and was a solid value pick in the 5th round. He'll likely compete for the backup role at strong-side linebacker.
Chris Greenwood was one of the Lions better selections. He's raw and the level of competition is a definite concern, but his upside is undeniable. He may not provide much immediate help, but was well worth a flier in the 5th round.
Jonte Greene will compete with Bentley and Greenwood for playing time, but the Lions secondary is getting crowded. It's unlikely that all three will be able to make the final roster cuts.
Travis Lewis is a great 7th-round pick. His upside is limited due to marginal athleticism, but he was a productive linebacker at Oklahoma and should be able to contribute as a backup and on special teams. He'll likely compete with Doug Houge for the backup weak-side linebacker job.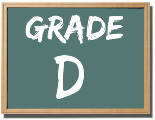 The Lions failed to land any immediate help from this draft class, and the long-term value appears to be minimal as well. Reiff will likely earn a starting role eventually, but he is the only player from this class who realistically should be viewed as a long-term starter. This was a blown opportunity for the Lions.