As good as the Green Bay Packers looked at times in 2011, they had some significant holes to fill this offeason. Ted Thompson elected to stay quiet through most of free agency, but came up big with another strong draft class which should help in their quest for another Super Bowl title.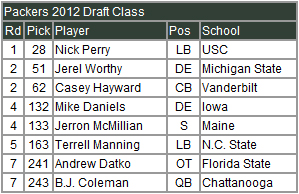 I was somewhat surprised to see Nick Perry still on the board at No. 28. While he would have benefited from returning to USC for another year, his raw talent is undeniable. Green Bay is the perfect place for Perry, who won't feel the pressure to perform immediately. He will likely start from day one, but he won't be the center of attention on a defense featuring Clay Matthews and A.J. Hawk. It's a great place for him to learn and develop, while also providing some immediate help.
Jerel Worthy could be a steal in the 2nd round, but we'll have to see how the Packers use him. The Packers like oversized, space-eating defensive ends in their 3-4 defense, and Worthy is capable of filling that role. But he'll need to stay in shape, because he's just a few big meals away from looking more like a nose tackle.
I also like the selection of Casey Hayward, who could step into a starting role at some point this year. The 2nd round may have been early for Hayward, but the Packers needed to add an instant-impact player in the secondary.
Mike Daniels is more of a traditional 3-4 end, at least compared to Worthy. His upside may be somewhat limited, but he has the potential to provide some depth in the front seven.
Jerron McMillian was a reach in the 4th round. There was very little talent at the strong safety position in this draft and it felt like the Packers reached to add depth at a position of need. It's an acceptable strategy in some situations, but the Packers got carried away with this one. Due to the lack of depth at the position he should make the final roster, but he's a purely developmental prospect who offers little immediate value.
Terrell Manning could prove to be one of the great steals of this draft. He's an explosive sideline-to-sideline linebacker who should excel at inside linebacker in Green Bay. The depth chart is crowded, so he may not see the field much early, but he definitely has a future in the league.
Andrew Datko has battled injuries which contributed to his fall the 7th round, but he's well worth the risk at this point in the draft. The Packers will likely groom him behind Bryan Bulaga at right tackle.
I'm not as high on B.J. Coleman as some, but I can't argue with the selection in the 7th round. He clearly has the measurables of an NFL quarterback and will have the opportunity to be brought along slowly in Green Bay. It's a good situation for Coleman, and a nice opportunity for Green Bay to develop a prospect behind Rodgers.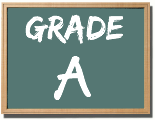 Overall, this was one of the better draft classes in the league, something which is becoming common for Ted Thompson. Few GMs in the league understand the importance of finding value in the late rounds better than Thompson, who consistently plucks future starters from the scrap heap late in the draft.