When reports surfaced that the Minnesota Vikings were interested in Morris Claiborne with the 3rd pick, I was worried about the future of the franchise. Fortunately for Vikings fans, Rick Spielman got it right, and put together a reasonably solid draft class.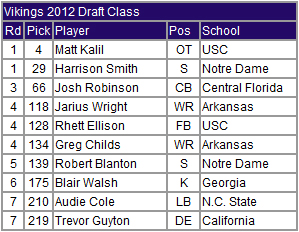 Matt Kalil was absolutely the right choice, and the fact that they picked up some extra draft picks from Cleveland was just icing on the cake. He'll anchor their offensive line for the next decade, hopefully protecting Christian Ponder's blind side.
I hate when rebuilding teams trade up in the draft, and the issue is compounded when they then reach for a specific position of need, which is exactly what the Vikings did by moving up to select Harrison Smith. I like Smith, but he's not a 1st-round talent. He has the ability to start, but he won't be a difference maker at the next level. I think Smith needs to play strong safety to be effective, but it sounds like the Vikings will be using him at free safety.
Josh Robinson was nice pick in the 3rd round and should compete for a starting job immediatelly. His impressive showing at the combine made him slightly overrated, but his speed should allow him to be a valuable cover corner against some of the league's faster receivers. He's a solid second option at cornerback.
I like the selection of Jarius Wright in the 4th round. He was one of the best deep threats still on the board and should be able to contribute in that capacity from day one.
Rhett Ellison is a fullback/tight end 'tweener but I'm not sure how he fits in Minnesota. The Vikings already have Kyle Rudolph and John Carlson at tight end and recently signed fullback Jerome Felton. Ellison may have to fight just to stay on the roster.
Greg Childs was a great sleeper pickup in the late 4th round. If healthy, he could have been a 2nd-round selection, but injuries concerns caused him to plummet down draft boards. He has more upside than Wright, but is definitely a bigger risk.
Robert Blanton played cornerback at Notre Dame but is simply too slow to play the position at the next level, and may even be too slow to play safety. But he'll be given an opportunity to win the starting strong safety job, and may actually be the favorite heading into camp.
Blair Walsh is a talented kicker but is coming off a terrible season. There was no reason his name should have been called before the late 7th round at the earliest. I don't like his chances of beating out Ryan Longwell for the starting job, but he could catch on elsewhere if he can put his 2011 season behind him.
Audie Cole was a great 7th-round pick. He has the ability to provide some depth at inside or weak-side linebacker and I like his chances of making the final roster cuts.
Trevor Guyton may have been my favorite 7th-round pick of the draft. I had a late 4th-round grade on Guyton and I think he could be a quality backup at right defensive end or as a three-technique tackle. He has a potential to be one of the better steals of the draft.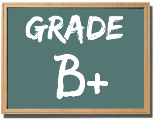 While I don't agree with every move the Vikings made, this was still a solid draft class. Rick Spielman did a nice job finding good value at all points of the draft and may have come away with at least three immediate starters (Kalil, Smith, Blanton).