This draft was an opportunity for the Houston Texans to solidify a few holes in an effort to make a deep playoff run in 2012. And despite spending just one pick in the first two rounds, the Texans did a decent job addressing needs without reaching to fill those holes.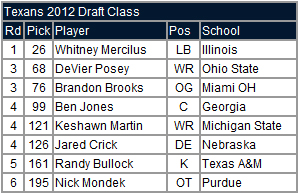 Whitney Mercilus will help ease the pain of losing Mario Williams, and should excel in Wade Phillips' defense. At this stage in his career, Mercilus is a pure pass rusher, but that's all the Texans need from him in 2012. He'll share time with Brooks Reed and Connor Barwin and may only be used in pass rush situations early in his career.
DeVier Posey was a forgotten man in the draft process, mainly due to the fact he missed much of the 2011 season due his suspensions at Ohio State. But Posey is a fairly polished product and has the potential to step into the third receiver role in Houston.
Brandon Brooks is a massive interior lineman who has the potential to be a dominant run blocker. However, he's still very raw and has limited experience against top competition. Additionally, his weight has always been an issue, so the Texans will have to monitor his development closely.
Ben Jones played center at Georgia, but I have to wonder if the Texans plan to move him to guard. The Texans recently signed Chris Myers to a four-year contract extension, giving little hope to Jones of stealing away the starting job anytime soon.
Keshawn Martin fits perfectly in Houston as a slot receiver, and should see fairly significant playing time in three and four wide receiver sets.
Jared Crick could be a steal for the Texans. He's a prototypical 3-4 end and should excel in the Texans defensive scheme. He could steal a starting job from Antonio Smith sooner rather than later.
I don't have a problem with taking a kicker in the 5th round, but Randy Bullock should not have been the first kicker off the board. Blair Walsh and Greg Zuerlein were ranked ahead of Bullock on every board I saw, including my own. Bullock was my 7th-rated kicker.
Nick Mondek offers little value other than as a backup. The Texans will hope he can demonstrate enough versatility in training camp to win a job, but he'll have to compete with Derek Newton for a roster spot.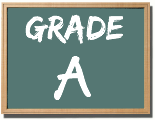 Overall, this was a very solid haul for the Texans. They should get immediate productive from Mercilus and Posey, and have some solid developmental prospects in Brooks, Jones and Crick. This could prove to be one of Rick Smith's stronger draft classes.