The Colts clinched a solid grade from this draft class the minute the regular season ended. But new GM Ryan Grigson took their development to a new level with a strong draft class which should allow this team to emerge as contenders again in the not-so-distant future.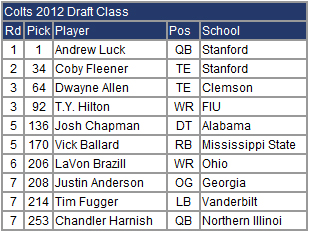 Obviously the addition of Andrew Luck was franchise-changing move. He'll step into a starting role from day one, and should be the face of this franchise for the next 10 years and beyond. He won't right the ship in one season, but he has all the tools necessary to make this team a Super Bowl contender again within the next three to five seasons.
I'm not as high on Coby Fleener as most, but this was a no-brainer for the Colts. Every young quarterback needs a go-to receiver, and who better to play that role for Luck than his college teammate and close friend?
Some have criticized the Colts for drafting two tight ends, but Fleener and Dwayne Allen are very different and both should play significant roles. Fleener is really more of an oversized receiver, while Allen is more of a traditional tight end. The Colts offense will likely feature sets with Fleener lined up in the slot and Allen on the line.
T.Y. Hilton is an explosive deep threat and should also contribute on special teams. He's not a No. 1 or No. 2 receiver, but he'll be a weapon that opposing defenses need to account for at all times.
Josh Chapman is a prototypical nose tackle. As with most 320-pounders, stamina is an issue, but he should see the field for 20-25 snaps per game even if he doesn't win a starting job as a rookie.
Vick Ballard will likely fight with Deji Karim for the third-string running back job. His upside is limited due to a lack of explosiveness, but he could be an effective short-yardage back.
LaVon Brazill is an intriguing developmental prospect. Don't expect to see much of him early in his career, but the Colts could keep him around as a 5th receiver and develop him for the future.
Justin Anderson is a physical lineman who could provide depth at guard and right tackle. And if he impresses early, he could push Joe Reitz for playing time.
Tim Fugger played defensive end at Vanderbilt and should be a nice fit in the Colts new hybrid defense. He has the athleticism to play both end and linebacker depending on the defensive set.
Chandler Harnish, Mr. Irrelevant, will compete with Trevor Vittatoe for the third-string quarterback job.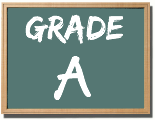 The Colts left a lot of holes unfilled, mainly on the defensive side of the football, but I love the fact that they surrounded Luck with a ton of talent. Too many teams address their need for a quarterback and only halfheartedly fill the holes around him. The Colts are clearly making sure that Luck is given every opportunity to succeed.