I feel like I should apologize to Jacksonville Jaguars fans for GM Gene Smith. He continues to make a mockery of the NFL Draft. In his first few years at the helm Smith showed an inexplicable obsession with small school prospects. And while that phase seems to have passed, he's moved on to 3rd-round punters and 28-year-old D-II players.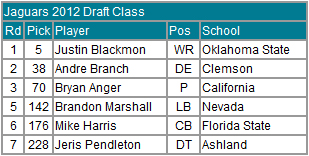 The Jags draft got off to a solid start with the selection of Justin Blackmon. They needed to upgrade the talent around Blaine Gabbert, and Blackmon will immediately jump to the top of their depth chart at receiver. If he lives up to expectations, Gabbert's numbers should improve dramatically.
I also like the selection of Andre Branch, who fills their need for a pass rusher. Branch is still developing, but he's in a good situation in Jacksonville where he can be a part of the rotation without having to stay on the field for every play. If they bring him along slowly as a rookie, he should be ready to be an impact player in 2013.
After two solid picks to start the draft, it went downhill in a hurry. Bryan Anger was far and away the best punter in this year's draft class, but the 3rd round? It was a reach that could potentially be justified by a contending team with few holes to fill, but the Jaguars are in the midst of a full-fledged rebuilding process. There is no possible way for Gene Smith to justify this selection.
Brandon Marshall adds some depth at linebacker, but there were much better players on the board, such as Terrell Manning, who would have filled that same need.
Mike Harris was an odd pick in the 6th round. The Jaguars would have been well served to add a legitimate starting cornerback in the 1st or 2nd round, but depth at the position is actually a strength. Harris is undersized and, even at Florida State, was limited to primarily playing the nickel corner role.
Jeris Pendleton is a 28-year-old from a Division-II school. The Jaguars will use him at nose tackle, and he could potentially be forced into a starting role early if Terrance Knighton isn't ready for the start of the season. It's an experiment that could go horribly wrong, and they don't appear to have a backup plan in place.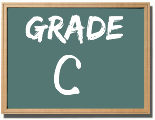 Gene Smith has officially taken over the Al Davis role as most unpredictable general manager on draft day. And while most of his picks leave much to be desired, this should still prove to be an average draft class for the Jaguars. Blackmon and Branch are two quality additions, but the lack of help from the late rounds means there's no margin for error with those two.