The Atlanta Falcons had very little to work with as a result of their trade for Julio Jones in last year's draft. As a result, I'll evaluate this class based solely on the picks with which they had to work. That said, the Falcons did absolutely nothing to help them in 2012 and added very little by the way of developmental prospects.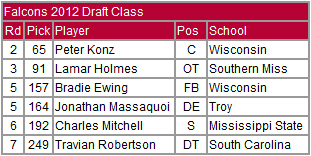 Peter Konz was the best center in this year's class by a wide margin, and he will eventually start for the Falcons. However, I was surprised that they failed to add an instant impact player. The Falcons made last year's draft all about the present, so what changed about their draft philosophy in one year?
Lamar Holmes was a reach in the 3rd round. He's a developmental prospect at right tackle and may eventually be shifted inside to guard. He may eventually compete for a starting job, but he likely won't see the field much in 2012.
Bradie Ewing was the top fullback on my board and I gave him a 5th-round grade. But how does he fit in Atlanta? Ovie Mughelli is the starter and no one keeps two fullbacks these days. He may end up getting cut in training camp.
Jonathan Massaquoi was overrated by the media, likely due to the perception that Troy churns out sleeper prospects. He's limited athletically, but does have some value in the 5th round. He'll compete for a backup job at defensive end, but it's a crowded position on the Falcons depth chart.
Charles Mitchell will compete for the backup strong safety job and should contribute on special teams. He has a good chance to survive the final roster cuts due the lack of depth at safety in Atlanta.
Travian Robertson is a physical lineman who could prove to be a steal if he can stay on the field. He's suffered a long list of injuries, including two torn ACLs, which may limit his ability to every play a meaningful role in the NFL.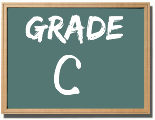 Even taking into account the Falcons limited picks, this was a disappointing draft class. None of their picks will play a significant role in 2012 unless forced into action due to injuries. And in terms of long-term value, only Peter Konz projects as a future starter.