The Carolina Panthers needed to upgrade the talent around Cam Newton, and while they didn't immediately address their offensive needs, they ended up with a solid group which should help Newton develop in his sophomore season.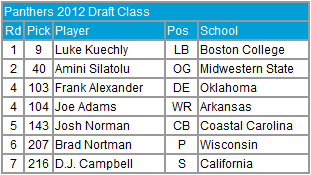 The selection of Luke Kuechly came as a surprised, but it was a welcomed one. Kuechly was the best player on the board and will immediately step into a starting role. He is expected to move into the middle linebacker position, with Jon Beason shifting to weak-side linebacker.
I was surprised by the selection of Amini Silatolu, and thought it was a reach, but I do understand their desire to address the interior offensive line. The main issue I have with the selection, however, is the fact that Cordy Glenn was still on the board.
Frank Alexander was a reach in the 4th round. He fits the mold of the type of well-rounded end the Panthers were looking for, but he has an uphill to earn playing time in Carolina. He'll battle Thomas Keiser and Eric Norwood for playing time.
I love the selection of Joe Adams. At this stage of his career he's nothing more than a vertical threat, but he'll have the opportunity to work with Steve Smith in Carolina, one of the game's elite undersized receivers.
Josh Norman could prove to be a steal in the 5th round, but does come with some character concerns. Having Norman and Brandon Hogan in the same secondary is scary thought. Clearly the Panthers are becoming one of the teams that isn't concerned with character.
Selecting Brad Nortman in the 6th round was almost as bad as the Jaguars selection of Bryan Anger in the 3rd round. While Anger was a reach, at least he was the elite punter in this year's class. Nortman was barely on the radar screen. There's just no reason to waste a pick on a guy like Nortman. A handful of punters of his caliber can be found in the free agency process after each draft.
D.J. Campbell was a solid 7th-round pick. He's best suited to play free safety, but will enhance his chances of making the final roster if he can demonstrate some versatility in training camp.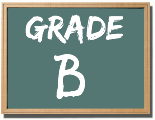 Overall, this wasn't the most exciting draft class, but I like the Panthers approach – especially in the 1st round. Kuechly may not change the direction of this franchise on his own, when rebuilding teams can't afford to pass up sure things in the draft.