The New Orleans Saints had nothing to work with, but I'll grade them strictly based on the picks which they did have to use. Unfortunately, the Saints took a bad situation and made it worse by consistently reaching and not coming away with any immediate help.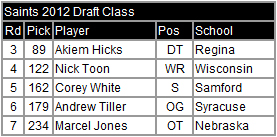 Akiem Hicks has the size to play the nose tackle role, which the Saints hoped Shaun Rogers could fill last year. However, Hicks is extremely raw and will likely only play a minor role in 2012.
Nick Toon had some value in the 4th round, but I don't think he's a great fit for the Saints. His lack of athleticism limits his upside and he'll have to fight just to earn a spot as the 4th or 5th receiver in New Orleans.
Corey White is another developmental prospect who can play corner or safety. He'll provide some much needed depth in the secondary.
Andrew Tiller and Marcel Jones may be handed backup jobs by default. The Saints are severely lacking depth on the offensive line, which should allow both prospects to make the final roster. However, neither has much upside and are unlikely to ever develop beyond the backup role.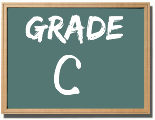 Even taking the lack of picks into account, it's tough to give the Saints high marks for this class. It's unlikely that any of these selections will be playing a meaningful role in New Orleans three years from now and they offer almost no immediate value.