The Tennessee Titans are stuck in limbo. They're not in full rebuilding mode, but they aren't legitimate contenders. As a result, they had a tough decision to make in this draft: address immediate holes, or draft for the future. Based on their early selections it seems as though they chose the latter, which was probably the right decision.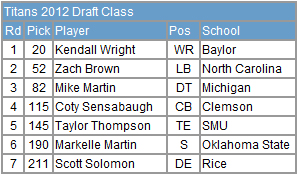 The Titans shocked a lot of people with the selection of Kendall Wright. Receiver was not viewed as an immediate need, but the Titans apparently viewed him as one of the best values on the board. Wright is a perfect compliment to Kenny Britt, and the Titans now have two legitimate weapons in place which will ease Jake Locker's transition whenever he takes over for Matt Hasselbeck.
Zach Brown is an elite athlete who fell down draft boards due to a lack of production in 2011 at North Carolina. He's undersized and not very physical, but the Titans defense is one of the few units that tends to favor athleticism over size and Brown should fit right in.
Mike Martin could be a steal in the 3rd round. He's limited athletically, but is a tough, physical player who can anchor a defensive line. He'll have to fight for playing time on the Titans crowded defensive line, but he'll force the coaching staff to find a role for him as part of the rotation.
If the Titans were drafting purely for need, cornerback is an area that should have been addressed earlier. Coty Sensabaugh adds depth, but he doesn't even begin to replace Courtland Finnegan.
I love the selection of Taylor Thompson in the 5th round. He played defensive end at SMU, so we have no idea what lies ahead for him as a tight end, but he has all the physical attributes necessary to play the position at an elite level. He's obviously a project, but his upside makes him well worth a 5th round selection.
Markelle Martin should provide some much needed depth in the secondary. He'll likely backup Michael Griffin at free safety and play on special teams.
Scott Solomon will compete for a backup job at defensive end. While the starters are locked in, there's very little depth at the position which should allow him to earn a spot on the roster.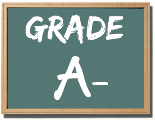 This was a solid draft haul for the Titans, but don't expect it to allow much improvement on their 9-7 record in 2011. This class was about putting the pieces in place to ensure a smooth transition from Hasselbeck to Locker. With the added weapons and offense and the depth added on the defensive side of the ball, the Titans should be able to avoid the typical dip in production when ushering in a new franchise quarterback.