The Cincinnati Bengals put together the best draft class, at least on paper, that I have ever seen in the nine years I've been covering the draft. Of their 10 selections, I gave a 3rd-round grade or better to eight players, and the other two received 4th-round evaluations. This was the best draft class of the year, and there isn't a close second.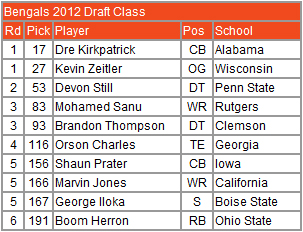 Dre Kirkpatrick was overrated by the media early in the draft process, which created the perception that his stock started to slip during the draft process. He's not as physical as you'd like, and he's still developing his coverage technique, but the Bengals have the depth at cornerback to bring him along slowly.
Kevin Zeitler was a reach in the 1st round, especially with Cordy Glenn still on the board. But he does have the ability to step into an immediate starting role at right guard.
Devon Still doesn't necessarily fill a need, but was a great value pick for the Bengals in the 2nd round. He will back up Geno Atkins and should be used as part of the defensive line rotation from day one.
Mohamed Sanu is one of the more underrated prospects in this draft class and could win a starting job in training camp. Due to ineffective quarterback play at Rutgers, his role was limited to that of a possession receiver, but he has the size and speed to develop into more of a true No. 1. Obviously in Cincinnati he'll always be the No. 2 behind A.J. Green, but he has more raw talent than most No. 2 receivers.
Brandon Thompson was purely a value pick, especially after they already picked up Still in the 2nd round. He'll compete for playing time with Domato Peko and Pat Sims in the nose tackle role.
The hype surrounding Orson Charles was purely a media creation, so it was not a surprise to see him fall to the 4th round. And while I think he was one of the most overrated prospects in this draft class, he's a solid pickup for the Bengals. He's essentially an oversized receiver, which is exactly the role he'll play in Cincinnati. He's not a threat to Jermaine Gresham's job, but they'll find ways to work him into the game plan.
Shaun Prater will have to fight hard to earn a spot on the final roster, but could be helped if the Bengals decide to cut ties with Nate Clements. He has the skills to win a job, but the secondary is suddenly very crowded in Cincinnati.
Marvin Jones may prove to be the steal of the draft. He lacks elite athleticism, but makes up for by being one of the most efficient route runners in this year's class. The difference between him and Sanu is minimal, and Jones may actually be more NFL ready.
George Iloka is built like a strong safety but tackles like a kicker, which lead to his fall. He's a developmental prospect who probably shouldn't see the field until he improves his tackling technique, but he definitely had value in the 5th round based on his raw talent.
Boom Herron is to running backs what Marvin Jones is to receivers. He's not the biggest, strongest or fastest player on the field but he's smart and gets the job done. The Bengals have a crowded backfield right now, so Herron has his work cut out for him, but don't be surprised to see him receive some significant carries this season if he impresses during training camp.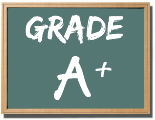 From top to bottom this was the strongest draft class. The Bengals landed better players in the 5th and 6th round than some teams landed in the 2nd and 3rd. They upgraded their depth at multiple positions and are now poised to make a serious run at the Steelers and Ravens. If this class pans out as expected, there will be a new powerhouse in the AFC North within the next three years.