The Cleveland Browns hit a home run with their first selection… and it was all downhill from there. The Browns entered the draft with 13 picks – an opportunity to completely change the direction of this floundering franchise – but whiffed in such a way that it could cost Mike Holmgren and Tom Heckert their jobs in the not-so-distant future.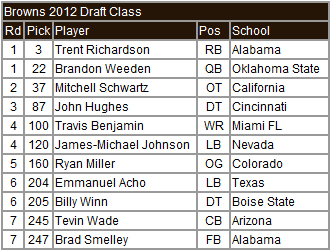 Even taking into consideration the somewhat questionable trade, Trent Richardson was a great selection at No 3. The Browns needed to land a can't-miss prospect in the top 10, and Richardson was arguably the best on the board. He will be a star from day one.
If the Browns were looking to change the face of the franchise, the accomplished that by selecting Brandon Weeden. But it feels like a lateral move to me. Regardless of your opinion of Weeden, the Browns are going nowhere fast. Even if all goes as planned, they won't be serious contenders until 2014, when Weeden will be 31 years old. I could understand a more established team gambling on Weeden, but the selection simply does not make sense for a franchise with a steep uphill climb just to enter the playoff discussion.
Mitchell Schwartz was a reach in the early 2nd round. At best, he'll be an average starting right tackle, and that's not worth the 37th overall selection. He's essentially a younger Tony Pashos, who the Browns recently released.
John Hughes may have been the reach of the draft. The Browns have two above average starting defensive tackles, and plan to use Frostee Rucker as the three-technique in passing situations. So where does Hughes fit in? It's hard to do worse than a reach that doesn't even fill a need.
Travis Benjamin is a track star masquerading as a football player. He could have value as a return specialist, but the Browns already have Josh Cribbs, who is backed up by the more-than-capable Buster Skrine. At best, Benjamin develops into a decent 4th option who can stretch the field, but he was not worth the 100th overall selection.
James-Michael Johnson adds some much-needed depth at the linebacker position. He will likely back up D'Qwell Jackson, but could play any of the three spots in Cleveland's 4-3 defense.
Ryan Miller adds some depth at guard and could push Shaun Lauvao or Jason Pinkston for playing time, both of whom are coming off disappointing seasons. Lauvao led all guards in sacks allowed and penalties in 2011.
Emmanuel Acho will compete for the backup weak-side linebacker job, and could actually see some playing time early due to Scott Fujita's suspension.
Billy Winn was arguably the Browns best selection other than Richardson. I gave him a fringe 3rd/4th-round grade and had him rated significantly higher than John Hughes.
Tevin Wade will compete with Buster Skrine for the 4th cornerback job. Like Skrine, he's undersized and his upside is limited to playing the nickel corner role.
Brad Smelley blocked for Richardson at Alabama, and the Browns reportedly called Richardson about him before making the selection. It's not a bad decision, but the Browns drafted Owen Marecic in the 4th round last year and parted with Lawrence Vickers to make room for him. What does that say about their evaluation process if they're willing to give up on Marecic after one year?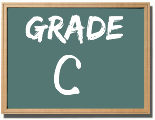 I fail to see how this draft class changed Cleveland's direction in any meaningful way. They have a power running game and a rookie quarterback… is that any different than two years when their offense featured Peyton Hillis and Colt McCoy, who, at the time, was viewed as a promising young quarterback? This draft class, coupled with the strong drafts of their division rivals, cemented the Browns place in the AFC North cellar.