This was a bold draft for the Arizona Cardinals, who acted more like a team on the verge of contention than one in rebuilding mode. It's a fine strategy if Kevin Kolb works out, but if their quarterback situation remains a question mark, this could set them back.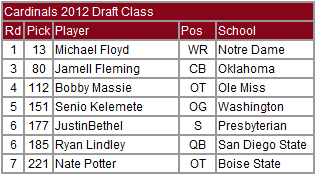 Michael Floyd was a luxury pick, but does give Larry Fitzgerald the support he needs. It also shifts Early Doucet back into the slot receiver role, which is a better fit for his skill set.
I like the selection of Jamell Fleming inthe 3rd round. He'll add some much-needed depth to the secondary and potentially compete for more serious playing time as the season wears on.
The Cardinals should have addressed their offensive line issues before the 4th round. Bobby Massie is a right tackle or a guard, and doesn't provide them a clear upgrade at any position.
Senio Kelemete may compete for a starting job at either right or left guard, but won't be a significant upgrade at either position. If he wins a starting job, it will likely be by default, more than the fact that he's actually ready for the NFL.
Justin Bethel is a nice developmental prospect who could potentially play cornerback or safety. He'll likely contribute on special teams early while they develop him on defense.
Throwing Ryan Lindley into the mix at quarterback doesn't really solve any problems. Lindley is a developmental prospect with all the NFL measurables, but accuracy has always been an issue for him.
Nate Potter can play tackle or guard and will compete for a backup job.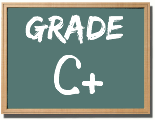 This wasn't one of Rod Graves better draft classes. They could potentially come away with three immediate starters (Floyd, Massie, Kelemete) but that speaks more to the lack of depth on the current roster than the strength of this class.