The Pittsburgh Steelers take the smart, patient approach to the draft almost every year and it is one of the key reasons why they are perennial contenders. While other teams reach to fill needs, the Steelers sit back and wait for someone to fall into their lap.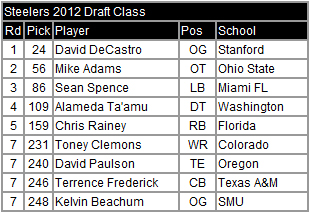 This year was no different as the Steelers landed David DeCastro, who will step into an immediate starting role and should be a key piece to their offensive line for the next decade.
Mike Adams was a calculated risk in the 2nd round. He's had a number of off-field issues, including a failed drug test at the combine, and on the field often looks lazy and disinterested. But the Steelers did their homework on Adams and apparently feel comfortable bringing him aboard. He perfectly fits the mold of the type of lineman they like, so if they can keep him motivated, he'll be a steal.
I was surprised by the selection of Sean Spence because I'm not sure how he fits into the scheme in Pittsburgh. He's sort of a strong safety/linebacker 'tweener, which made him an ideal fit at weak-side linebacker in a 4-3 defense. But in Pittsburgh he'll be forced to play inside. I have a hard time envisioning him as anything more than a special teams guy in Pittsburgh.
Alameda Ta'amu is another prospect who perfectly fits the Steelers scheme, but also comes with a lot of questions. Ta'amu is an elite talent, but can't stay in football shape. He's battled weight issues since high school and it's tough to break those habits once you've reached this level.
Chris Rainey is an explosive offensive weapon. It will be interesting to see how the Steelers use him because they really haven't had a player with his skill set in the Roethlisberger era.
Toney Clemons has the size the Steelers need at receiver, but he's a longshot to make the final roster cuts.
I really like David Paulson but he'll have a tough time finding a job in Pittsburgh. He's a good fit for their offensive scheme, but Heath Miller and Leonard Pope already have two roster spots locked up. He'll compete with Weslye Saunders for a job, but there's no guarantee that either makes the final cuts.
Terrence Frederick will compete for a backup job with Cortez Allen, Walter McFadden and others.
Kelvin Beachum is a versatile lineman, which could help him earn one of the final spots on the offensive line. His upside may be limited, but he could carve out a career as a backup.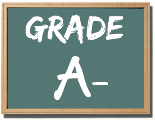 Overall, this was a fairly strong draft for the Steelers. They only landed one guy who projects as a guaranteed future starter (DeCastro), but Adams and Ta'amu have the upside to potentially develop into steals down the road.