The St. Louis Rams are in full rebuilding mode, and I wholeheartedly approve of their strategy to trade back and accumulate picks. My feelings on how they spent those picks, however, is a different story.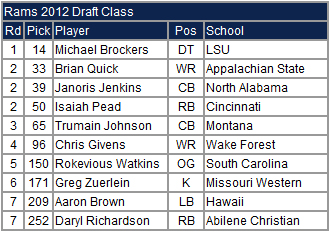 Michael Brockers isn't going to make the type of difference that most Rams fans were hoping for from their 1st-round pick when the season ended. But he has a ton of potential and the Rams have more than enough time on their hands to wait for him to develop. By the time they're ready to compete, he should be reaching his full potential.
Far too many teams approach the 2nd round as though it's an opportunity to gamble without much risk, when in reality there are usually legitimate difference makers and 1st-round talents still on the board. The Rams did exactly this on Day 2 of the draft.
Brian Quick was huge reach at No. 33. He has the potential to develop into a quality possession receiver, but the Rams really needed to bring in a receiver who could help out Sam Bradford immediately, and Quick is definitely not that guy.
Janoris Jenkins obviously has the talent to be a star, but a rebuilding franchise like St. Louis is not the place for a player with serious off-field concerns. I'm just not sure the Rams coaching staff, front office and veteran players are equipped to handle an off-field project like this.
Isaiah Pead will help take the load of Steven Jackson's shoulders, but he was a reach in the 2nd round. I don't see him as a potential franchise back, which the Rams could have found earlier in this draft. Pead is a capable backup, but won't take the reigns from Jackson once he's ready to hang up the cleats.
Taking Jenkins was a risk, but pairing him with another rookie corner, Trumain Johnson, who also has serious off-field concerns was just plain stupid. Two young players who couldn't stay out of trouble in college, now collecting NFL paychecks is a recipe for disaster.
Chris Givens is a deep threat, but that's about it. He'll contribute, and they definitely needed another weapon, but there were better receivers on the board in the 4thr ound.
Rokevious Watkins is an intriguing prospect. He has the size and strength to be a dominant interior run blocker, and is actually a decent athlete for his size. He could be a steal in the 5th round.
Greg Zuerlein was the top kicker on my board and actually received a 5th round grade. One of the reasons I like him is the fact that he should immediately be one of the most effective players on kickoffs in the league. He has a huge leg and should routinely force opponents to start from their own 20.
Aaron Brown adds some much-needed depth at linebacker. I was surprised they didn't address this position earlier than the 7th round, because Brown likely won't give them the help, at least early on, that they really need.
Daryl Richardson has a legitimate shot to win the third-string running back job, but I have to wonder if the Rams may bring in another veteran. Starting the season with two rookies at the position isn't ideal.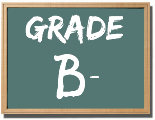 I have to give the Rams credit for trading back and accumulating picks, but I don't think they added enough difference makers. The added depth will allow them to be more competitive in 2012, but they took too many risks and made too many reaches. Unfortunately, this probably wasn't the franchise-altering draft that it had the potential to be.