The San Francisco 49ers had a chance to fill some holes in this draft but reached too often and failed to add any instant-impact players. It was a disappointing haul for a team hoping to make another deep playoff run in 2012.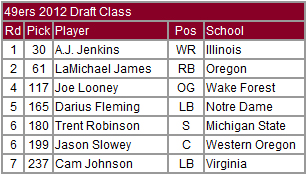 A.J. Jenkins is a talented receiver but was a huge reach in the late 1st round. He put together a solid 2011 season, but has always been inconsistent and had a history of clashing with his coaches at Illinois. Ron Zook openly criticized his attitude on multiple occasions. It will be interesting to see how he gets along with Jim Harbaugh, who isn't the type to put up with diva receivers.
LaMichael James is a dangerous weapon, but this was too early for a player who projects as a career backup with character and injury concerns. He'll have to compete with Kendall Hunter and Brandon Jacobs for carries behind Frank Gore, and could legitimately end up as the 4th-string running back.
Joe Looney was a solid value in the 4th round. He'll have a chance to compete for the starting job at right guard.
Darius Fleming will compete for a backup job at outside linebacker behind Ahmad Brooks and Aldon Smith.
Trent Robinson could be a steal in the 6th round. He's a prototypical free safety who could compete for playing time if Dashon Goldson continues to struggle in coverage as he has the past few years.
Jason Slowey is a developmental prospect who will be groomed to potentially replace 33-year-old Jonathan Goodwin in a few years.
I love the selection of Cam Johnson. He's had a history of injuries which likely led to his fall, but could be one of the better steals of this class. If healthy, he's a better prospect than Darius Fleming.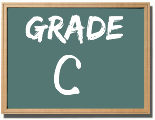 The 49ers whiffed with their first two picks. Even if Jenkins develops into a quality receiver, they missed an opportunity to add someone who could make a more immediate impact. But while their early picks were disappointing, they did find some value in the later rounds which could allow them to salvage something from this draft class.