For the second consecutive year, the Seattle Seahawks whiffed in the 1st round and demonstrated a complete lack of understanding as to how to effectively use the draft to rebuild a franchise. While the Seahawks have some talent, they're headed in the wrong direction.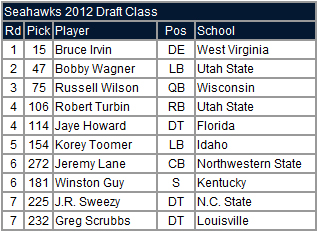 I thought the selection of James Carpenter was bad last year, but Bruce Irvin may be worse. Not only was Irvin a fringe 1st-round prospect at best, but he's a developmental prospect with serious character concerns. If the Seahawks wanted to gamble they should have selected Janoris Jenkins, who is at least NFL-ready in terms of his talent. Irvin will be effective as a situational pass rusher, but that's not the type of player you target with the 15th selection.
Bobby Wagner was a nice 2nd-round value. He'll likely back up Barrett Ruud in 2012 with a chance to take over the starting job in the future.
I like Russell Wilson a lot, but I'm not sure the 3rd round was the right place for the Seahawks to select him. He has all the tools necessary to have a long career as a backup, but his upside is somewhat limited. Considering the just signed Matt Flynn, the move is even more questionable.
I love the selection of Robert Turbin. His health is a concern, but if he can stay on the field he can push Marshawn Lynch for carries. In the 4th round he was a safe gamble.
Jaye Howard adds some depth to the defensive line, but was a reach in the 4th round. He'll compete for a backup job and should make the final roster cuts.
Korey Toomer is a decent developmental prospect, but he'll have plenty of competition at linebacker in Seattle. He definitely does not have a guaranteed roster spot.
Jeremy Lane is a nice developmental prospect. The Seahawks needed to add depth to the secondary and he had value in the 6th round.
I like the selection of Winston Guy. He'll probably never develop into a starter, but he'll back up Kam Chancellor at strong safety and immediately make a difference on special teams.
J.R. Sweezy played defensive tackle at N.C. State but will be converted to guard in Seattle. It's tough to judge a player switching positions, but in the 7th round there's no risk involved.
Greg Scruggs will compete with Jaye Howard and others for a backup job, but it's tough to imagine both rookies surviving the final roster cuts.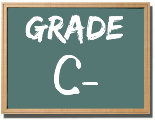 Just like last year, the Seahawks whiffed in the 1st round but rebounded with some solid mid and late-round picks. They continue to add depth, but they won't turn things around until the start to find the elite prospects in the early rounds.