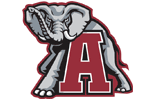 Alabama Crimson Tide offensive lineman D.J. Fluker may have answered the question about his ability to remain at tackle at the next level during Monday's weigh-in at the Senior Bowl.
Fluker was measured at 6'5″, 355 pounds and reportedly carried the weight well. But the key number for Fluker was his arm length (36 3/8 inches) which gave him the longest wingspan at the Senior Bowl.
Due to his size and limited mobility there are questions concerning Fluker's ability to play tackle in the pros. But his long arms may give him the edge he needs in pass protection to make up for his lack of quickness. And if nothing else, it will ease the concerns of some scouts who may have been on the fence about his future position.
Fluker reminds me of Vikings right tackle Phil Loadholt who entered the 2009 draft with similar concerns but has developed into a solid starting lineman in the league.