Mike Davis RB Clemson #28
Ht: 5'9″
Wt: 223
[level-scouting-reports]
Size/Athleticism: Well built for his size. Impressive blend of athleticism and strength. Added weight prior to 2014 season to improve his power.
Vision: Impressive combination of vision and patience. Sees the play developing and will wait for his blockers and position himself appropriately while on the move. Only downfall in terms of vision is too much patience. Needs to keep his feet moving, but will occasionally come to stop in the backfield.
Power: More power than your typical 5'9″ runner. Strong legs and easily runs through lazy arm tackles. Capable of lowering his shoulder to initiate contact and run over defenders. Tough to bring down due to his combination of strength and his natural low center of gravity.
Speed/Agility: Does not have elite breakaway speed, but possess enough speed to be a threat in open space. Biggest asset is his balance and quick feet in tight spaces. Can run between the tackles with minimal contact, and squeeze himself through tight holes while maintaining balance and the ability to explode when he hits open space. Impressive lateral movement for a runner with his size.
Passing Game: Reliable receiver who even has experience lining up wide. Soft hands. Does a nice job adjusting to poorly thrown balls. Gives a strong effort as a blocker and knows how to use leverage to his advantage. Limited as a blocker due to his size, but effort and awareness are there.
Intangibles: Younger brother of former Clemson RB James Davis, who played briefly with Browns, Redskins. Conditioning during 2014 season has been question.
Durability: Played through ankle and rib injuries in 2013 which reportedly lingered in 2014 season.
[/level-scouting-reports]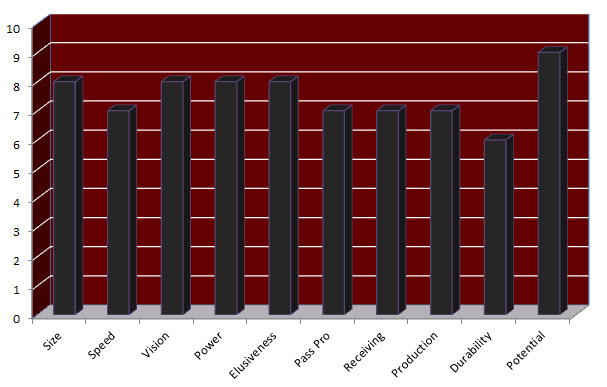 Overview: Davis didn't post the stats of some of the other top running backs in this class, but he is among the most talented ball carriers in this class. His combination of power and agility make him an intriguing prospect and he definitely has the tools to carry the load at the next level. He's ready for an immediate starting role and could be the type of runner who gets 20+ touches per game, even as a rookie. Questions about his effort and conditioning from his final season at South Carolina hover over his draft stock.