T.J. Yeldon RB Alabama #4
Ht: 6'2″
Wt: 221
[level-scouting-reports]
Size/Athleticism: Strong but a little on the lanky side due to his height. Elite athleticism for his size.
Vision: A very patient runner with good vision. Sees the whole field and doesn't get caught off guard by closing defenders. Knows where his lanes are but is quick to adjust.
Power: Not nearly as much power as you'd expect from a 220-pound running back. Plays with inconsistent pad level and does not do a consistent job lowering his shoulders do gain leverage. Runs too high at times.
Speed/Agility: Makes himself smaller than you'd expect running through a crowded line of scrimmage. Quick feet to maneuver through traffic. Shows nice acceleration and start-and-stop ability. Lacks a second gear to be a home run threat. Shows very good balance and hip/ankle flexibility when making subtle moves in the open field for a bigger running back. Lateral mobility is excellent.
Passing Game: A solid check down option. Hands are questionable. Traps against his body.
Intangibles: Very quiet. Coaches speak highly of him.
Durability: Missed game with hamstring and ankle injuries in 2014. Missed time in 2013 with an ankle injury. Over 600 touches in his three years at Alabama. Cited injuries as his primary motivation for turning pro early.
[/level-scouting-reports]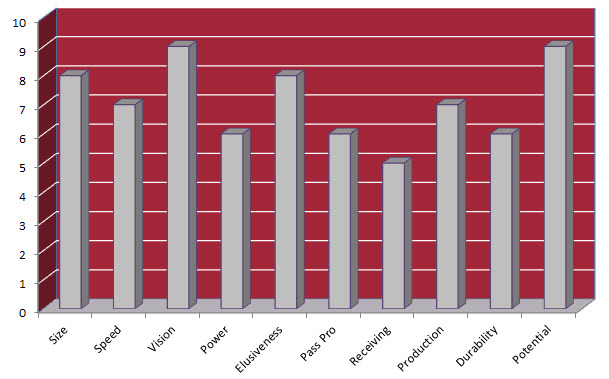 Overview: Yeldon is sort of a 'tweener but he has the potential to develop into a workhorse at the next level. His quick feet and vision give him the ability to pick up a ton of extra yards. However, he is surprisingly soft for a guy his size. If he bulks up and adds the ability to run people over to his game, the sky is the limit. At this point he is an Eddie Lacy type running back without Lacy's elite power. Injuries also factor into the report and raise some concern, but he still looks like a top 100 pick and future starter.