Melvin Gordon RB Wisconsin #25
Ht: 6'1″
Wt: 207
[level-scouting-reports]
Size/Athleticism: Lacks elite size or speed, but has a nice blend of both.
Vision: Relies on his offensive line and is typically a patient runner. Hits the hole with a burst—maybe too hard at times, limiting his ability to adjust to the second level of defenders once he's in the hole.
Power: More powerful than he gets credit for when running between the tackles. He's much more of a downhill runner than his highlight reel plays would make you think. Strong enough to break arm tackles and typically falls forward. Does not run with great balance in the open field. Fumbling has been an issue.
Speed/Agility: His long runs have given him the reputation as an elusive playmaker, but he's really more of a one-cut runner. Lacks the quick footwork, balance and agility to make defenders consistently miss in the open field. But he does have the straight-line speed to take it the distance once he's given a running lane. Very average change-of-direction ability. Does have the ability to turn on the jets quickly from a dead stop, making him a threat to bounce runs to the outside once the interior is closed off. Speed is an asset, but he doesn't really have a second gear to turn on in the open field.
Passing Game: A non-factor in the passing game. Does not show great awareness in pass-protection. Does a poor job using leverage to his advantage against pass-rushers. Plays too high as a blocker and gets knocked back easily. Only 20 career receptions.
Intangibles: Hard worker and a favorite of the coaching staff.
Durability: Missed majority of 2011 season with a groin injury, which resulted in him taking a medical redshirt.
[/level-scouting-reports]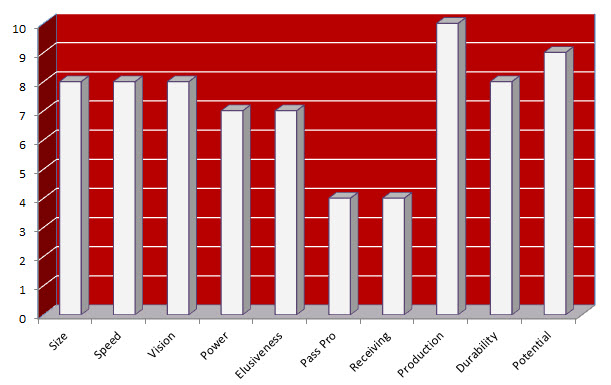 Overview: Gordon is a one-cut runner with the speed to take it the distance on any given play. He benefitted greatly from playing behind an elite offensive line in college, but he definitely has tools that translate to the NFL game. His fumbling issues and lack of production in the passing game raise some concern, but he has a reputation as a hard worker and both areas can be developed. I do not see him as an elite difference marker in the NFL, but has potential to be an adequate starter if supported by a strong backup who complements him well.