Ameer Abdullah RB Nebraska #8
Ht: 5'9″
Wt: 195
[level-scouting-reports]
Size/Athleticism: Undersized. Lacks the strength to take a pounding. Impressive athlete. Very smooth in his movements and maintains balance while on the move at high speeds.
Vision: Does a nice job find the hole and hitting it with a burst. Might be a little too patient at times. Hesitant to fight for the tough yardage and will try to bounce it to the outside when it just isn't there. Too quick to put his head down up the middle at times. Needs to try to squeeze through the tight holes and improve vision between the tackles. Does a nice job finding the cutback lanes.
Power: Runs hard and is willing to run between the tackles. Does not necessarily shy away from contact, but certainly doesn't seek it out. Lacks the strength to push the pile. Tends to fall forward despite limited yardage after contact.
Speed/Agility: Far and away his best asset. He's explosive and hits holes with an impressive burst. Acceleration is elite. Gets up to full speed from a dead spot in a matter of steps.
Passing Game: Not a ton of experience as a receiver, but definitely capable of a bigger role at the next level. Shows the ability to extend his arms and pluck poorly thrown passes. Extremely explosive once he catches the ball in the open field. Relies on cut blocks and is inconsistent. Needs to improve awareness in pass protection.
Intangibles: Works hard on and off field. Praised by coaching staff. A team leader.
Durability: Played through a knee injury in 2013.
[/level-scouting-reports]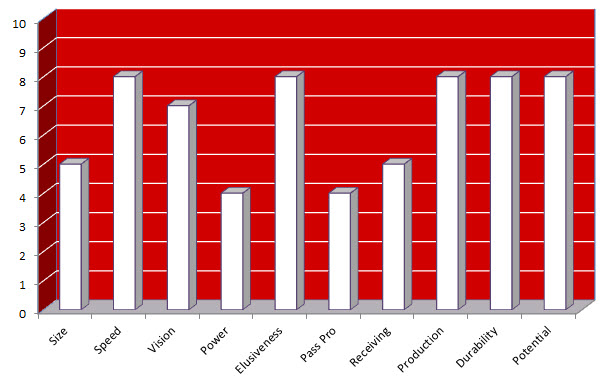 Overview: Abdullah is a talented and explosive runner but does have some limitations. Short running backs can have success at the next level (Doug Martin, for example, was on verge of stardom before injury) but they tend to be much more physical than Abdullah. I would take Abdullah as a change-of-pace back on my team in a heartbeat, but he should not be relied up on as the workhorse at the NFL level. He reminds me of Justin Forsett, who has been successful in spurts, but is not a true feature back.