Duke Johnson RB Miami FL #8
Ht: 5'9″
Wt: 206
[level-scouting-reports]
Size/Athleticism: Bulked up during the offseason prior to junior year. Looks like a more complete running back with the added weight and it may help ease some injury concerns from earlier in his career. Maintained his speed with added weight and is a legitimate home run threat.
Vision: Shows decent vision but his patience is a concern. He hits the first hole he sees hard, but he doesn't do a great job of waiting for blocks to develop.
Power: Has shown improvement in this area but it will never be a strength. When hit squarely he will get knocked backward. Does not push the pile. Capable of running through arm tackles, but will lose balance from glancing blows.
Speed/Agility: Straight-line speed is among the elite playmakers in this class. Dangerous in space. However, you would like to see a lot more elusiveness between the tackles from a runner of his size. Simply lacks the fluid hips and ankles to string together moves—a skill which is necessary to develop into an elite runner as an undersized ball carrier. Does not play with great balance or agility and struggles to weave between defenders when taking the ball up the middle. Start-and-stop ability is modest, at least when compared to runners with his size and skill set. More of a one-cut runner, which isn't ideal for his size.
Passing Game: Productive receiver (38 catches in 2014) but technique could be improved. Frequently traps the ball against his body. Gives an effort as a blocker but simply lacks the size and strength.
Intangibles: No known issues. Leaving school early to help support his family.
Durability: Suffered season-ending ankle injury in 2013. Concussion history is unclear, but was knocked out of two games in 2013 after hits which appeared to raise concussion concerns.
[/level-scouting-reports]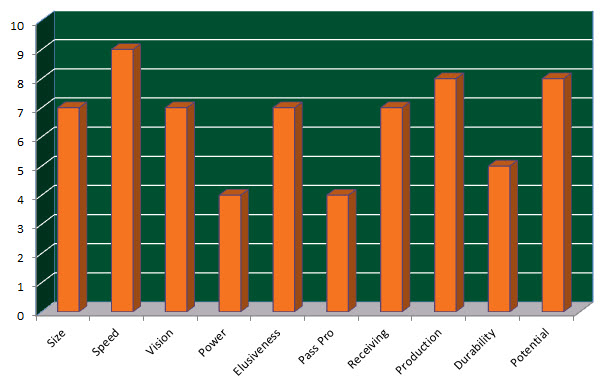 Overview: Johnson worked hard to bulk up this past offseason and it paid off. He looks like a more complete back and could be viewed as a runner with feature back potential. However, it's tough to overlook his limited size and injury history, which is sure to raise some red flags with teams. Johnson reminds me of Boom Herron, who I liked entering the draft and gave a third-round grade.