Karlos Williams RB Florida State #9
Ht: 6'1″
Wt: 223
[level-scouting-reports]
Size/Athleticism: Elite size. Shows some flashes of plus athleticism but it doesn't show up consistently. Above average speed for his size.
Vision: Looks hesitant running between the tackles. Puts his head down too early and misses opportunities. Capable of following his lead blocker but nothing more. No creativity to his runs.
Power: Has the strength to run people over but very inconsistent. Runs too high and doesn't always gain leverage.
Speed/Agility: Impressive straight-line speed for a power runner. Runs too high. Doesn't have great footwork and looks awkward trying to avoid tackles at times. Does not have start-and-stop ability. Does not make guys miss at the second level with his footwork.
Passing Game: Productive receiver out of the backfield. Fairly reliable hands but traps against his chest too often. Routes are inconsistent and not explosive in his breaks. Most effective just sitting down in zone coverage as a check down option or swinging out into the flat. Very limited in terms of awareness in pass protection.
Intangibles: Investigated for domestic battery but no charges filed. Moved from safety to running back prior to 2013 season.
Durability: Suffered a broken wrist in 2011. Played through a shoulder injury in 2013.
[/level-scouting-reports]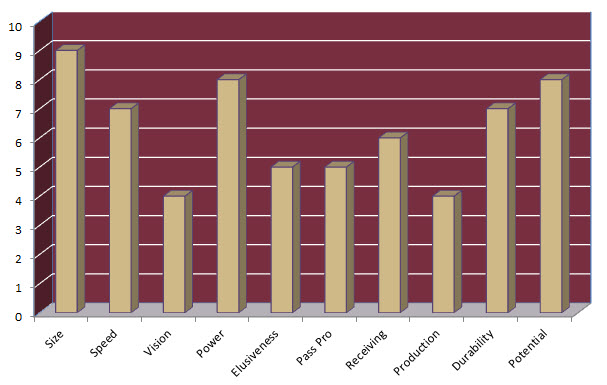 Overview: Williams has some upside due to his limited experience at running back (he's a former safety) and flashes of dominance, but his lack of development in 2014 raises some concern. High expectations were set after his 2013 performance, but he was unimpressive and eventually lost carries to true freshman Davin Cook. He'll be an interesting Day 3 prospect with obvious starter potential, but he's a developmental prospect with some character red flags.