Amari Cooper WR Alabama #9
Ht: 6'1″
Wt: 205
[level-scouting-reports]
Size/Athleticism: Adequate height and overall built. Enough speed to make plays after the catch but lacks the elite speed to create consistent separation with his acceleration alone. Physical tools are relatively average across the board.
Separation Skills: Lacks the speed to simply run away from defensive backs and take the top off the defense, but creates consistent separation due to his elite technique. Does all the little things to throw defensive backs off balance and keep them guessing. Footwork off the snap is elite, allowing him to beat press coverage with minimal physical contact. Does an exceptional job varying his his acceleration to keep defensive backs guessing and forcing them into false steps. Despite limited speed, initial burst out of his cuts is elite allowing him to create consistent of separation, even on short routes.
Ball Skills: Inconsistent hands, although he showed some improvement in 2014. Does a nice job tracking the deep ball but inconsistent when it comes to positioning himself against the defensive back for 50/50 balls.
Blocking: Another area of strength. Lacks dominant strength and power, but often has enough of a size advantage to win against defensive backs.
Intangibles: Has a reputation as a humble, hard worker.
Durability: Missed time with a toe injury in 2013.
[/level-scouting-reports]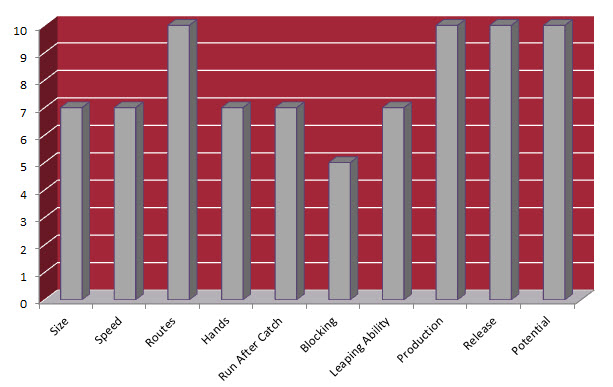 Overview: Cooper doesn't have the elite physical tools of most No. 1 receivers, but the way in which he wins compares favorably to Odell Beckham Jr. Cooper's routes are exceptional, allowing him to consistently create separation at all levels. His only major flaw are his hands, which were a glaring issues in 2013 but showed significant improvement during his junior year. He definitely has the refined skill set to warrant a high pick and should contribute immediately.