Jaelen Strong WR Arizona State #21
Ht: 6'4″
Wt: 205
[level-scouting-reports]
Size/Athleticism: Ideal height and overall build for a possession receiver. Has the physical tools to develop into a physical possession receiver at the next level. Shows impressive leaping ability.
Separation Skills: Routes are often sloppy. Rounds off his cuts and does not give a full effort, especially when it appears as though he knows he is not his quarterbacks first read. Lacks the speed to run away from defensive backs. Needs to refine the efficiency in his routes to create more consistent separation.
Ball Skills: Needs to do a better job using his body as a shield as he goes up to high point the ball. Plays too passive at times and need to be more consistent in attacking the ball rather than letting it come to him. Lets too many smaller defensive back compete with him for balls that he should win every time. Body control is somewhat lacking at times—gets himself twisted around and off balance more than you'd like from a receiver that needs to win against tight coverage to excel.
Blocking: Inconsistent technique but has the build to improve and make this an area of strength.
Intangibles: Forced to attend JUCO due to academic struggles. Father was a standout basketball player at Drexel and a former police officer in Philadelphia. Father died when he was nine.
Durability: Limited by an ankle injury in 2013.
[/level-scouting-reports]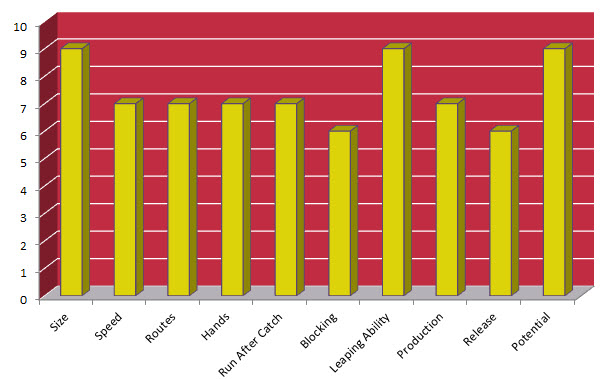 Overview: Strong has the potential to develop into an elite possession receiver. However, he is still developing in a number of areas which cause him to slip to the second day of the draft despite having the raw talent of a first-round prospect. He lacks the ability to consistently separate, so he'll need to improve the efficiency of his routes in order to better position himself to make contested catches at the next level.