Dorial Green-Beckham WR Missouri #15
Ht: 6'5″
Wt: 225
[level-scouting-reports]
Size/Athleticism: Freakish size and athleticism combination. Built like a true No. 1 receiver. Impressive speed for his size and can be a threat after the catch.
Separation Skills: Struggles to create consistent separation but has the size and leaping ability to win 50/50 balls. Long arms, big hands give him an impressive catch radius. Gets up to full speed quickly but doesn't have a second gear to create separation. Surprisingly not very physical at the line of scrimmage. Technique could be improved to better handle press coverage. Routes are very basic. Relies heavily on his raw tools to get open and make plays on the football.
Ball Skills: Big hands allow him to pluck the ball from the air with ease. Needs to improve the consistency of his timing and body control when going up for contested catches. Gives smaller defensive backs a chance sometimes due to poorly-timed attempts.
Blocking: Minimal effort but has the size to contribute if the coaching staff can talk him into it.
Intangibles: Arrested for marijuana possession in October, 2012 and again in January, 2014 which led to his dismissal from the Missouri program. Transferred to Oklahoma and practiced with the program in hopes of being ruled eligible for 2014, but never played for the Sooners. Development has been relatively slow considering his obvious physical talent and raises some questions about his work ethic.
Durability: Suffered a sprained ankle and sprained shoulder in 2013 but played through injuries.
[/level-scouting-reports]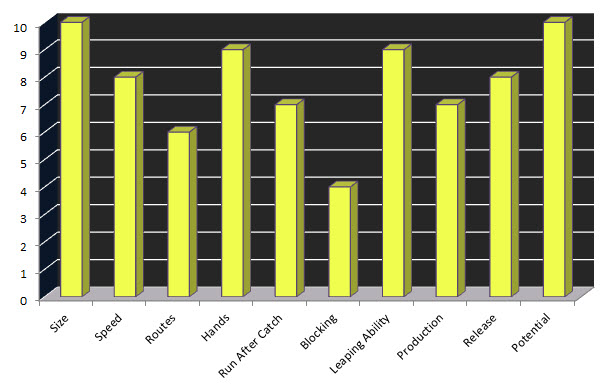 Overview: Green-Beckham is an elite physical talent but has serious off-field questions that must be answered. While NFL teams typically aren't overly concerned with a marijuana arrest, multiple arrests leading to dismissal from the Missouri program raises a major red flag. NFL teams will want to know just how committed he is to football and if he can get his off-field life under control to point where they won't have to constantly be worrying about how he's spending his time away from the team facilities. He's an obvious top-10 talent, but since he'll be removed from some boards, it's difficult to project where he could land.