Ty Montgomery WR Stanford #7
Ht: 6'0″
Wt: 216
[level-scouting-reports]
Size/Athleticism: Built like a running back with explosive athleticism. Takes some snaps in the backfield, both as a wild cat quarterback and as a running back. Used on a lot of screen to help get him the ball in space. Explosive in the open field. Experienced returning kicks and punts.
Separation Skills: Tough to grade in this area due to his role in Stanford's offense. Used primarily on screens, short curls and slants. Attempts to win with speed and can get over the top of the defense, but needs to be more efficient in his cuts to help create separation.
Ball Skills: Big hands for his size, which gives him potential, but has far too many drops. Does not show the ability to pluck the ball from the air away from his body with ease. Does a poor job fighting for the ball in traffic. Does not put himself in position to battle defensive backs and often allows them to gain the upper hand on 50/50 balls.
Blocking: Gives a reasonable effort. Has the strength to be effective at times. Technique is inconsistent and he'll lunge too often, but there's potential for growth in this area and he seems to take an interest in excelling in this area.
Intangibles: Hard worker. Viewed as a quiet leader who leads by example.
Durability: Missed time with a torn ACL in 2012. Suffered a knee injury in 2013 bowl game.
[/level-scouting-reports]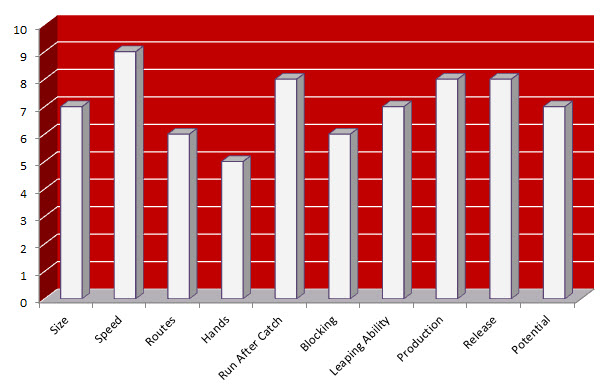 Overview: Montgomery is still developing, and needs to refine his routes and improve his consistency catching the ball, but his upside is obvious. He's built like a running back and is explosive enough to be a big-play threat at the next level. He's at his best when given the ball in space, and should be viewed as a developmental Percy Harvin-type receiver.