Rashad Greene WR Florida State #80
Ht: 6'0″
Wt: 178
[level-scouting-reports]
Size/Athleticism: Vastly undersized, and doesn't have the elite speed or the physical mentality to make up for it in any way.
Separation Skills: Quick off the line of scrimmage. Shows good footwork and varies his acceleration off the snap to keep defensive backs on their toes. Capable of working past press coverage without engaging in contact. Routes are smooth. Can turn on the jets out of his breaks to lose defenders when they take a false step. Has the pure speed to stretch the field.
Ball Skills: Small hands and suffers from too many drops. Traps the ball against his chest too often. Plays small, and does not use his limited size to position himself between the ball and defenders. Allows defensive backs to easily make plays on the ball in contested situations. Does a nice job tracking the ball adjusting down the field as long as he is free from contact with defenders.
Blocking: Limited strength makes him a non-factor.
Intangibles: Two-time team captain and a favorite of the coaching staff. Has a reputation as a hard worker off the field.
Durability: Missed four games with an achilles injury in 2011. Small frame raises durability concern despite the fact that he's remained healthy over the past few seasons.
[/level-scouting-reports]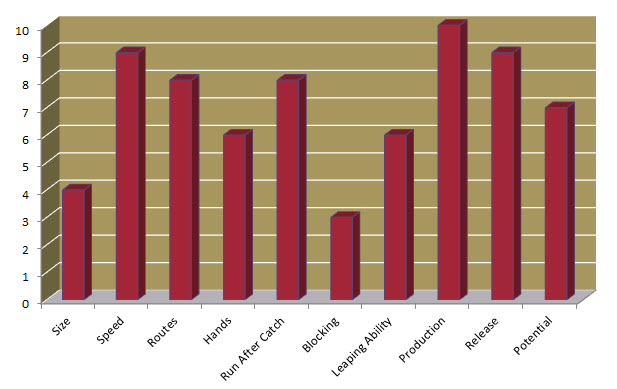 Overview: Greene has the speed stretch the field, and the explosive agility to create separation on short and intermediate routes as well. However, his hands are a concern and he struggles batting for contested catches. So while he's dangerous in space, he needs the separation to make plays. He could be a very solid No. 2 or No. 3 in the NFL, but in unfavorable matchups he'll quickly disappear.