Stefon Diggs WR Maryland #1
Ht: 6'0″
Wt: 190
[level-scouting-reports]
Size/Athleticism: Adequate height and build. Explosive after the catch. Elite all-around athlete. Dangerous punt returner.
Separation Skills: Played almost exclusively in the slot. Majority of receptions were on quick screens and slants. Has the speed to get over the top of the defense but wasn't asked to run many deep routes. Limited route running experience really shows on intermediate routes. Rounds off his which limited the effectiveness of his acceleration ability.
Ball Skills: Fairly reliable hands. Capable of making some acrobatic catches.
Blocking: Decent effort at times but lacks size and strength to be effective.
Intangibles: Suspended for one game due to making contact with an official prior to 2014 Penn State game.
Durability: Suffered broken leg in 2013 which ended his season. Missed time with an ankle injury in 2012. Lacerated kidney ended his regular season in 2014.
[/level-scouting-reports]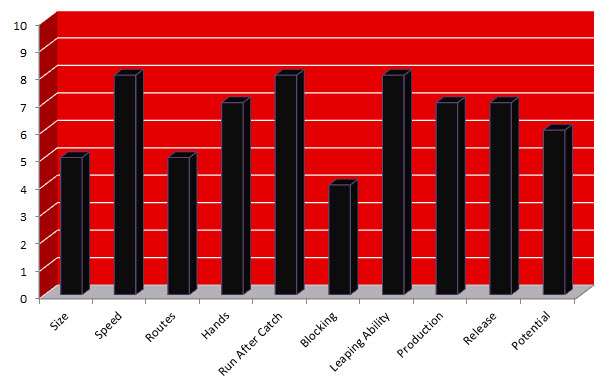 Overview: Diggs is a dangerous playmaker after the catch, but his game is limited. He plays almost exclusively in the slot and will be limited to that role at the next level. His routes are sloppy and he isn't a physical receiver, despite having decent size for a slot receiver. While he definitely has NFL traits and can be a quality option in the slot, his skills are not special and he will be an easily replaceable part of an NFL roster.