Tyler Lockett WR Kansas State #16
Ht: 5'10"
Wt: 181
[level-scouting-reports]
Size/Athleticism: An explosive playmaker. Elite acceleration. Has the speed to stretch the field and to make plays after the catch. Explosive punt returner. Lack of size may cause teams to view him only as a punt returner rather than a kick returner as well.
Separation Skills: Has the pure speed to run away from defensive backs. Explosive out of his cuts and can run away from a defensive back after forcing him into a false step. Routes tend to be a little sloppy. He can be extremely explosive in his cuts, but he tends to round the off too often which limits his effectiveness. Short and skinny, which limits his ability to battle for contested catches.
Ball Skills: Small hands are a concern. Makes a lot of double catches. Lets the ball come into his chest too often. But he does have impressive leaping ability and athleticism and he'll make some acrobatic catches too.
Blocking: Lacks the size to be effective but does give an honest effort.
Intangibles: Father and uncle both played for Kansas State. Two-time team captain.
Durability: Slight frame raises obvious durability concerns and it's already showed. Slowed by a hamstring in practices before 2014 season. Missed time with a hamstring injury in 2013. Missed time in 2011 with a lacerated kidney suffered during a game. Also had a broken wrist in high school.
[/level-scouting-reports]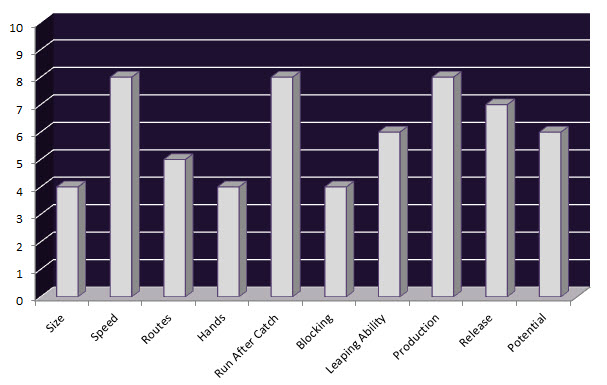 Overview: Lockett has the speed and explosive ability after the catch to be a dangerous weapon at the next level. Right now he looks like a complementary piece in the NFL, but if he can refine his route running and prove his ability to contribute on intermediate routes and would become a more well-rounded receiver. He is probably best suited to play in the slot at the next level.