Nelson Agholor WR USC #15
Ht: 6'1″
Wt: 185
[level-scouting-reports]
Size/Athleticism: Adequate height but lacks bulk. Long strider who gets up to full speed quickly but lacks the second gear to be a dangerous deep threat. Has some experience returning punts.
Separation Skills: Limited route running experience. Used on a high percentage of short routes. Lacks the elite speed to be a dangerous deep threat. Has experience in the slot and out wide. Long arms and leaping ability to compete for jump balls but doesn't have the strength to physically battle with defensive backs. Struggles with press coverage.
Ball Skills: Long arms to pluck the ball from the air. Fairly reliable hands, but suffers from some focus drops.
Blocking: Inconsistent effort. Lacks the strength to really be effective.
Intangibles: Team captain.
Durability: No major issues, but lean frame raises some minor concern. Played through a minor rib injury in 2013.
[/level-scouting-reports]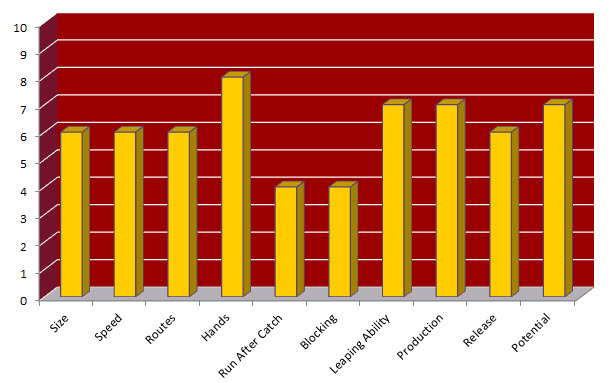 Overview: Agholor is best suited as a slot receiver who can make some plays after the catch if given room to run. He lacks the size to battle through press coverage or the speed to be a serious deep threat on the outside. His upside is limited by his physical tools, but he definitely has enough to be a reliable third option in the slot.