Devin Funchess TE Michigan #1
Ht: 6'5″
Wt: 235
[level-scouting-reports]
Size/Athleticism: Elite size for a wide receiver but lacks bulk for a tight end. A 'tweener who can't do it all at either position but has the size and athleticism to play a specific role at a high level.
Separation Skills: Speed is well above average for a tight end but modest for a receiver. Struggles to create consistent separation and relies on winning 50/50 balls. Does not do a great job working back to the quarterback—situational awareness on the field appears limited. Does not show great body control and looks awkward adjusting to the ball at times. Routes are very limited. Rounds off his cuts and does not have explosion to lose defenders.
Ball Skills: Predominantly a hands-catcher, but had issues with drops early in his career. Still has some focus drops at times, but has improved. Big hands and consistently extends arms to pluck the ball from the air. Slow to adjust to the ball.
Blocking: Lacks the strength to dominate as an in-line blocker and rarely used in that role, especially late in his career at Michigan. Struggles to quickly identify his assignment and is late to get to his man when lined up in a blocking role from the slot. From the perspective of a receiver, he's a strong blocker and has the strength to control defensive backs when he's able to quick diagnose his assignment and lock on. Not a finisher.
Intangibles: Nothing significantly positive or negative of note.
Durability: Played through minor leg injury in 2014.
[/level-scouting-reports]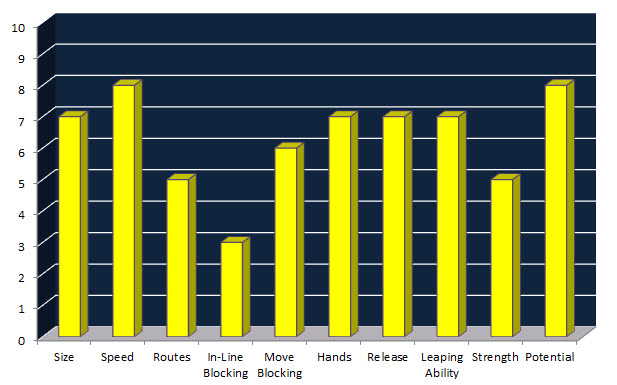 Overview: Funchess played wide receiver towards the end of his career at Michigan but I continue to view him as a pro tight end due to his lack of production on the outside. He was at his best when lined up in the slot, playing the role of an oversized possession receiver (in other words, a flex tight end). His routes are limited due to his lack of explosive athleticism, but he can be a reliable possession right end with the speed to make things happen after the catch. He definitely falls short of the elite category, but has the tools to be a significant role player in an offense.