Jeff Heuerman TE Ohio State #5
Ht: 6'5″
Wt: 252
[level-scouting-reports]
Size/Athleticism: Good all-around athlete for his size. Ideal height and athletic build to pose a threat as a receiver.
Separation Skills: Long strider who gets up to full speed quickly. Rarely used as a deep threat, but has the physical tools to get down the field and win 50/50 matchups. Routes are frequently rounded off. Flashes the ability to sink his hips and make crisp cuts, but very inconsistent.
Ball Skills: Limited experience as a receiver but generally extends his arms to pluck the ball from the air. A few double-catches on film due to turning up field before fully securing the ball.
Blocking: Struggles to stay low and loses leverage. Looks confused at times and struggles to diagnose his assignment when not lined up directly over a defender. Athletic enough to be an asset as a move blocker. Gets to the second level quickly.
Intangibles: Father played basketball at Michigan. Brother plays tight end at Notre Dame. Former standout youth hockey player. Over 30 career starts but does not look nearly as polished as that stat would indicate.
Durability: Foot surgery in 2014 offseason.
[/level-scouting-reports]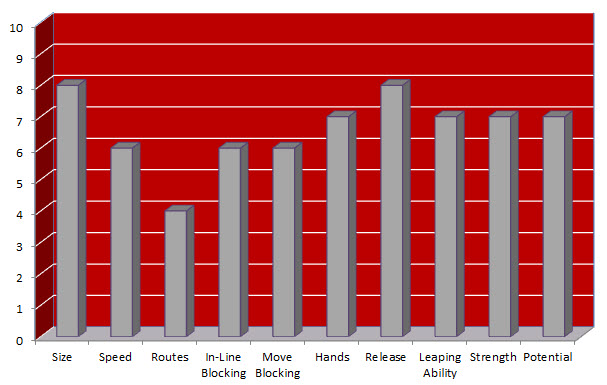 Overview: Heuerman has the size and athleticism, but he is strictly a developmental prospect at this stage. His blocking is severely limited due to poor technique and awareness. As a receiver, his routes are sloppy and inconsistent. However, he has the physical tools to improve dramatically in both areas. As a prospect, he compares favorably to Gary Barnidge, who has carved out a nice career as a backup. Heuerman's ceiling is certainly higher than the level Barnidge has reached, but expectations should be limited based on how far he as to go to reach that level.