Nick O'Leary TE Florida State #35
Ht: 6'3″
Wt: 247
[level-scouting-reports]
Size/Athleticism: Lacks ideal height. Build makes him better suited for a classic in-line tight end or an h-back role. Limited in his agility. Does not make fluid cuts and not a threat after the catch. Strength is decent for his size, but limited as an in-line blocker.
Separation Skills: Strictly a possession receiver on short routes. Lacks the speed or suddenness in his cuts to create any separation against man coverage.
Ball Skills: Very reliable hands. Can handle hot throws from short distances, making him a reliable check-down option.
Blocking: Shows moments of success against favorable matchups as long as he stays low. Does not have the lower body strength to anchor against stronger defensive ends. Can handle assignments as a move blocker  but
Intangibles: Jack Nicklaus' grandson. Suspended for a game for making an obscene gesture during high school. Has been in two motorcycle accidents the past two offseasons.
Durability: No known issues aside from the motorcycle accidents.
[/level-scouting-reports]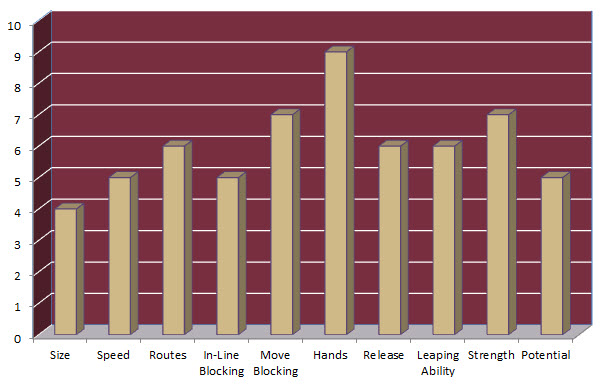 Overview: O'Leary doesn't fit the profile of today's hybrid tight ends, but he's a reliable pass-catcher on short routes and will be an asset for a team looking for an H-back. His ceiling is limited, but he fills a specific role.