Cedric Ogbuehi OT Texas A&M #70
Ht: 6'5″
Wt: 306
[level-scouting-reports]
Size/Athleticism: A natural athlete but it doesn't translate smoothly to football. Quick feet helps him out in pass protection. Moderate overall size. Impressive length (35″ arms) but it doesn't obviously show up on tape. Has the tools, just doesn't know how to use them to his full advantage.
Pass Protection: Plays a bend-but-don't-break style. Has the quick feet to mirror edge-rushers and rarely beat right off the snap with speed. Quickness allows him to force speed rushers too far upfield, taking away their ability to turn the corner on him and get to the quarterback. Does not have the strength to anchor and plays on his heels consistently. Rarely shuts down a pass-rusher, and is often walked back into the backfield, even if he's able to stay in front. Simply lacks the functional strength in both his lower and upper body to lock on to a defender and finish him.
Run Blocking: Gets to the second level with ease. Quick off the snap and gives a solid initial punch. Not really a mauler in the run game. Can drive his man off his spot when he plays with leverage, but struggles to stay low enough consistently. Gets lost in space and struggles to identify a target at the second level.
Intangibles: Played guard and right tackle until shifting to left tackle as a senior.
Durability: Suffered a torn ACL in final collegiate game. Missed time with an undisclosed injury in 2013. Missed one game with an ankle injury in 2011.
[/level-scouting-reports]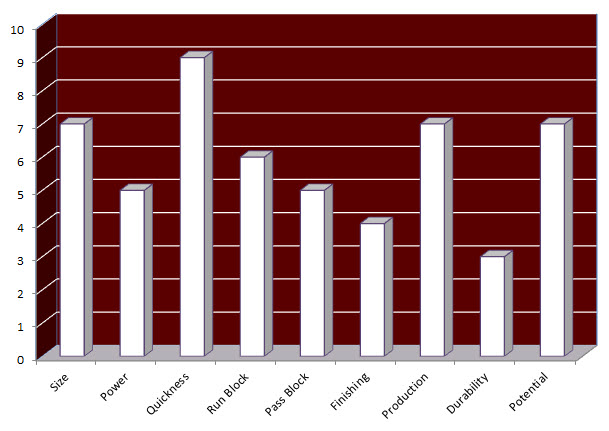 Overview: Ogbuehi (pronounced ah-BOO-hee) played guard and right tackle early in his career before finally taking over at left tackle as a senior. His performance at left tackle was disappointing, to put it mildly, and he was shifted back to the right side towards the end of the season. He lacks the strength to play guard, potentially making him a one position lineman which severely hurts his value if he isn't viewed as a guaranteed future starter (his 2014 performance indicates he shouldn't be). Factor in the injuries, and it's almost impossible to see him as a first-round pick despite high expectations entering his senior year.