Corey Coleman WR Baylor #1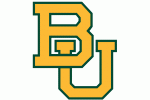 Size/Athleticism: 5'10", 190 pounds. Elite speed and agility. Occasionally lined up at running back. Dangerous in the open field and can make defenders miss with ease.
Separation Skills: Has the speed to run past defenders. Explosive out of his breaks. Did not run anything resembling a full route tree at Baylor. Almost exclusively ran go routes or screens. Many of his "routes" are him reacting to the quarterback as he's flushed from the pocket – essentially street ball.
Ball Skills: Fairly reliable hands but he'll drop some easy ones. Does a great job tracking the ball and adjusting, but does not always high point the ball and tends to let it come to him. Leaping ability gives him potential to continue to develop in this area.
Blocking: Never asked to block much. Tough to project, but he doesn't have the frame to excel in this area.
Intangibles: On film you'll notice him clearly takes plays off – don't mistake this for laziness. Baylor does this by design to rest players without taking them off the field due to their high-speed offense. Art Briles' offense has not produced many successful NFL prospects despite elite production at the college level.
Durability: Sports hernia surgery in December, 2015.
Overview: Coleman is a tough prospect to project at the next level. He's an elite athlete with the speed to create consistent separation. But he's also extremely raw. He'll show flashes of brilliance as a rookie, but how quickly can he learn to run routes at an NFL level in order to shake even the most athletic NFL cornerbacks? It's very difficult to envision him as an impact rookie, but he clearly as No. 1 receiver potential.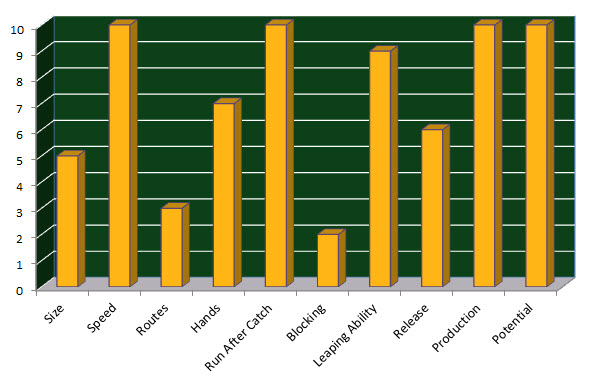 ---
| Rank | Player | Position | School | Grade |
| --- | --- | --- | --- | --- |
| 1 | Corey Coleman | WR | Baylor | 94 |
| 2 | Laquon Treadwell | WR | Ole Miss | 92 |
| 3 | Braxton Miller | WR | Ohio State | 89 |
| 4 | Michael Thomas | WR | Ohio State | 89 |
| 5 | Will Fuller | WR | Notre Dame | 86 |
| 6 | Sterling Shepard | WR | Oklahoma | 84 |
| 7 | Tyler Boyd | WR | Pittsburgh | 82 |
| 8 | Josh Doctson | WR | TCU | 82 |
| 9 | Pharoh Cooper | WR | South Carolina | 77 |
| 10 | Rashard Higgins | WR | Colorado State | 74 |
| 11 | Kenny Lawler | WR | California | 69 |
| 12 | De'Runnya Wilson | WR | Mississippi State | 69 |
| 13 | Aaron Burbridge | WR | Michigan State | 68 |
| 14 | Leonte Carroo | WR | Rutgers | 65 |
| 15 | Thomas Duarte | WR | UCLA | 65 |
| 16 | Tajae Sharpe | WR | Massachusetts | |
| 17 | Roger Lewis | WR | Bowling Green | |
| 18 | Bralon Addison | WR | Oregon | |
| 19 | Cayleb Jones | WR | Arizona | |
| 20 | Jordan Payton | WR | UCLA | |
| 21 | Daniel Braverman | WR | Western Michigan | |
| 22 | Paul McRoberts | WR | SE Missouri State | |
| 23 | D.J. Foster | WR | Arizona State | |
| 24 | K.J. Maye | WR | Minnesota | |
| 25 | Keyarris Garrett | WR | Tulsa | |
| 26 | Alex Erickson | WR | Wisconsin | |
| 27 | Mike Thomas | WR | Southern Miss | |
| 28 | Charone Peake | WR | Clemson | |
| 29 | Demarcus Ayers | WR | Houston | |
| 30 | Byron Marshall | WR | Oregon | |
| 31 | Dom Williams | WR | Washington State | |
| 32 | Kolby Listenbee | WR | TCU | |
| 33 | Chris Brown | WR | Notre Dame | |
| 34 | D'haquille Williams | WR | Auburn | |
| 35 | Malcolm Mitchell | WR | Georgia | |
| 36 | Jordan Williams | WR | Ball State | |
| 37 | Nelson Spruce | WR | Colorado | |
| 38 | MarQuez North | WR | Tennessee | |
| 39 | Kenneth Scott | WR | Utah | |
| 40 | Cody Core | WR | Ole Miss | |
| 41 | Mekale McKay | WR | Cincinnati | |
| 42 | Chris Moore | WR | Cincinnati | |
| 43 | Devon Cajuste | WR | Stanford | |
| 44 | Trevone Boykin | WR | TCU | |
| 45 | Jalin Marshall | WR | Ohio State | |
| 46 | Hunter Sharp | WR | Utah State | |
| 47 | Jamaal Jones | WR | Montana | |
| 48 | Geronimo Allison | WR | Illinois | |
| 49 | Jaydon Mickens | WR | Washington | |
| 50 | Quinshad Davis | WR | North Carolina | |