Michael Thomas WR Ohio State #3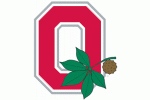 Size/Athleticism: 6'3, 210 pounds. Moderate speed and agility. Wins more with technique than athleticism.
Separation Skills: Doesn't have the speed to get over the top of the defense with consistency but does have the route-running skills to create enough separation. Effectively uses double moves and subtle fakes to create space. Long speed is average at best, but he shows a nice burst out of his breaks. Some of moves appear a little too deliberate and won't fool as many defensive backs in the NFL.
Ball Skills: Elite hands. Only five drops in 2015.
Blocking: Not really interested in blocking. Gets out of the way whenever possible and gets tends to get grabby when he does feel the need to engage. Strong enough to deliver an occasional pop though.
Intangibles: Spent a year at Fork Union Military Academy (teammates with Cardale Jones) when he wasn't offered major scholarships out of high school. Rare example of a player being redshirted as a sophomore – reportedly due to struggles learning offense in 2013. Entering draft early, but is actually five years removed from high school. Nephew of Keyshawn Johnson.
Durability: No known issues.
Overview: Thomas is an ideal No. 2 receiver at the next level. Most No. 1 corners will shut him down because they'll have superior athleticism and if he can't force them into a misstep, he won't break free. But his route running is already developed to the point that he'll burn many inexperienced cornerbacks, even as a rookie. Surrounded by enough talent, he'll make an instant impact in the NFL, but he shouldn't be viewed as a prospect who can change an offense by himself.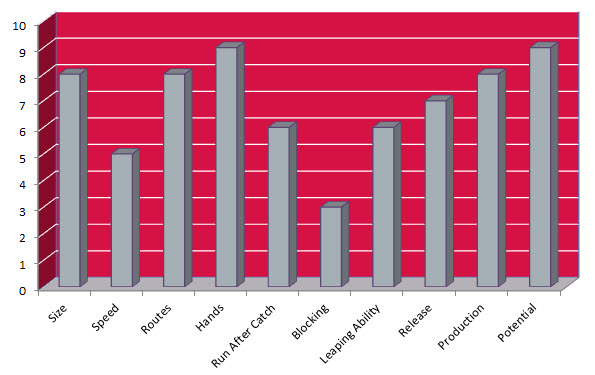 ---
| Rank | Player | Position | School | Grade |
| --- | --- | --- | --- | --- |
| 1 | Corey Coleman | WR | Baylor | 94 |
| 2 | Laquon Treadwell | WR | Ole Miss | 92 |
| 3 | Braxton Miller | WR | Ohio State | 89 |
| 4 | Michael Thomas | WR | Ohio State | 89 |
| 5 | Will Fuller | WR | Notre Dame | 86 |
| 6 | Sterling Shepard | WR | Oklahoma | 84 |
| 7 | Tyler Boyd | WR | Pittsburgh | 82 |
| 8 | Josh Doctson | WR | TCU | 82 |
| 9 | Pharoh Cooper | WR | South Carolina | 77 |
| 10 | Rashard Higgins | WR | Colorado State | 74 |
| 11 | Kenny Lawler | WR | California | 69 |
| 12 | De'Runnya Wilson | WR | Mississippi State | 69 |
| 13 | Aaron Burbridge | WR | Michigan State | 68 |
| 14 | Leonte Carroo | WR | Rutgers | 65 |
| 15 | Thomas Duarte | WR | UCLA | 65 |
| 16 | Tajae Sharpe | WR | Massachusetts | |
| 17 | Roger Lewis | WR | Bowling Green | |
| 18 | Bralon Addison | WR | Oregon | |
| 19 | Cayleb Jones | WR | Arizona | |
| 20 | Jordan Payton | WR | UCLA | |
| 21 | Daniel Braverman | WR | Western Michigan | |
| 22 | Paul McRoberts | WR | SE Missouri State | |
| 23 | D.J. Foster | WR | Arizona State | |
| 24 | K.J. Maye | WR | Minnesota | |
| 25 | Keyarris Garrett | WR | Tulsa | |
| 26 | Alex Erickson | WR | Wisconsin | |
| 27 | Mike Thomas | WR | Southern Miss | |
| 28 | Charone Peake | WR | Clemson | |
| 29 | Demarcus Ayers | WR | Houston | |
| 30 | Byron Marshall | WR | Oregon | |
| 31 | Dom Williams | WR | Washington State | |
| 32 | Kolby Listenbee | WR | TCU | |
| 33 | Chris Brown | WR | Notre Dame | |
| 34 | D'haquille Williams | WR | Auburn | |
| 35 | Malcolm Mitchell | WR | Georgia | |
| 36 | Jordan Williams | WR | Ball State | |
| 37 | Nelson Spruce | WR | Colorado | |
| 38 | MarQuez North | WR | Tennessee | |
| 39 | Kenneth Scott | WR | Utah | |
| 40 | Cody Core | WR | Ole Miss | |
| 41 | Mekale McKay | WR | Cincinnati | |
| 42 | Chris Moore | WR | Cincinnati | |
| 43 | Devon Cajuste | WR | Stanford | |
| 44 | Trevone Boykin | WR | TCU | |
| 45 | Jalin Marshall | WR | Ohio State | |
| 46 | Hunter Sharp | WR | Utah State | |
| 47 | Jamaal Jones | WR | Montana | |
| 48 | Geronimo Allison | WR | Illinois | |
| 49 | Jaydon Mickens | WR | Washington | |
| 50 | Quinshad Davis | WR | North Carolina | |